Msgr. George W. Cummings, the founder of Epiphany Cathedral Catholic School, St. Raphael Parish in Englewood and San Pedro Parish in North Port, as well as longtime Pastor at Epiphany Parish, died Aug. 8, 2020 in Brooksville at the age of 102.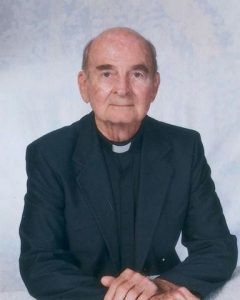 Ordained in Nov. 27, 1943 for the Diocese of St. Augustine, which covered the entire state of Florida at the time, Msgr. Cummings first taught at St. James Cathedral School in Orlando and then helped found Archbishop Curley Catholic High School in Miami. In addition, he founded Our Lady of Good Counsel Camp for youth in Citrus County at which he served as Director for many years.
Within the Diocese of Venice, Msgr. Cummings was the founder of St. Raphael Parish in Englewood (1957), Epiphany Cathedral Catholic School in Venice (1959), and San Pedro Parish in North Port (1965), all while serving as the second Pastor of Epiphany Parish (now Cathedral) from 1956-1976. At the request of Archbishop Joseph Hurley, he was given the ecclesiastical honor of Domestic Prelate (now Honorary Prelate) by Pope John XXIII in 1959.
After serving at Epiphany, he was assigned as Pastor of St. Elizabeth Seton Parish in Citrus Park from 1976 until his retirement in 1991. He also served as Youth Ministry Director for the Diocese of St. Petersburg.
All funeral services will be held at the Cathedral of St. Jude the Apostle, 5815 5th Avenue N., St. Petersburg, and will be as follows:
Visitation: Wednesday, August 12, 2020, 6:00 to 8:00 p.m., Evening Prayer will be offered at 7:00 p.m.
Funeral Mass: Thursday, August 13, 2020, 10 a.m., Most Reverend Robert N. Lynch will be the Main Celebrant, with Very Reverend James B. Johnson as Homilist.
For those unable to attend, the Funeral Mass will be livestreamed on the Cathedral website: https://stjudesp.org/ and the Diocese of St. Petersburg's Facebook page.
Burial will immediately follow at Calvary Catholic Cemetery, 5233 118th Avenue N., Clearwater.
Please pray for the repose of the soul of Msgr. Cummings.