Msgr. Anthony A. La Femina, a retired priest and iconographer who previously served as Administrator of St. Isabel Parish on Sanibel, died Dec. 30, 2019. He was 86.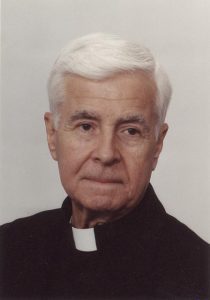 Msgr. La Femina was born Nov. 19, 1933, in New Haven, Conn., and was one of three children of Anthony and Natalie (D'Amato) La Femina.
In his academic formation, Msgr. La Femina attended Providence College, Dominican Fathers, Seminaire de Philosophie and Grand Seminaire in Montreal, Quebec, Canada, University of St. Paul in Ottawa, Ontario, Canada, and Angelicum in Rome, Italy. He was ordained May 27, 1961 at the Cathedral of St. Jerome in Montreal, Canada. For the Diocese of Saint-Jérôme, in the Province of Quebec, Canada, Monsignor served in parishes in Rosemère, Deux-Montagnes, before serving on the Diocesan Tribunal, then as the Vice-Chancellor and later as Chancellor of the Diocese.
Msgr. La Femina was appointed as an official at the Congregation for Divine Worship of the Holy See in 1969 and served there for many years. He was incardinated in the Diocese of Venice, from the Diocese of Saint-Jérôme, in December 1986. He also served as an official of the Pontifical Council for the Family.
Within the Diocese of Venice, Msgr. La Femina assisted at several parishes and including in 1998 as Administrator of St. Isabel Parish in Sanibel. Prior to his retirement in 2008, Msgr. La Femina also served in the Diocese of Charleston as Director of the Office of Volunteers. Most recently, he was Chaplain to the Knights of Columbus Bishop Charles B. McLaughlin Assembly 1818 in Venice.
In addition to serving as a priest, Monsignor was a well-known iconographer. Images he created were most notably used worldwide during the 2000 Jubilee. He was also a scholarly author.
He is survived by numerous relatives. A funeral will take place at 10 a.m., Jan. 18, at Epiphany Cathedral, 310 Sarasota St., Venice. A viewing will take place starting at 8:30 a.m.