Helping mothers who might otherwise be homeless become self-sufficient and productive members of the community is what Our Mother's House is all about.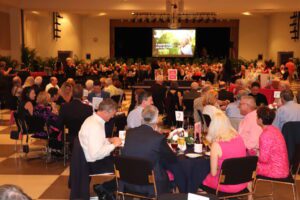 The annual Wine Tasting, Auction & Dinner event to benefit Our Mother's House of Catholic Charities, Diocese of Venice, Inc., was held Feb. 23, 2022, at the Venice Community Center in Venice.
Hundreds showed their support for the program. Attendees made bids on silent auction items and an enthusiastic live auction, plus donations made during a "Gift from the Heart" appeal.
Shannon Hoyt, the new Program Director for Our Mother's House, said that after more than three decades, the program keeps getting better at promoting self-sufficiency and pushing young mothers towards independence.
Hoyt said that when young mothers face homelessness, the impact is greater than many realize, including on an emotional and behavioral level. In addition, the young child feels what their mom is going through.
"Your support of Our Mother's House is having an impact," Hoyt said. "These are generational effects. You are impacting the lives of moms who will go on and do great things, thanks to your support tonight and throughout the year."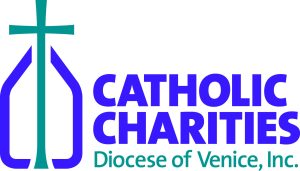 Jessie, a mom in the program, shared her story of overcoming addiction and despair, and finding Our Mother's House which helped turn her life around.
"I found myself in the grasp of addiction – homeless, hopeless, and unable to escape the endless routine of self-destruction," Jessie said. "I was lost and didn't know how to move forward with my life. Not until I was unapologetically pushed, encouraged and sometimes even harassed to change the circumstances that I was in."
Jessie wanted to be clean and the best version of herself, but it wasn't until she became pregnant and heeded the advice of a friend that she went into a rehab program. It was there that she gave birth to a healthy daughter and was connected with the people at Our Mother's House.
Although overwhelmed with being a single mother, the staff and volunteers at Our Mother's House provided Jessie with the opportunities to set goals and to work towards them. That included offering her education about how to be a single mother and be successful.
"I never knew such a place existed. It was just what we needed," Jessie said. "I'm truly becoming the woman I was supposed to be. (Our Mother's House) gave me my sense of self; gave me my future back; and gave me the ability, as a mother, to secure and build a positive future."
The 2023 event to support Our Mother's House was the first full gathering since the pandemic. In 2022, a hybrid event included an in-person aspect, as well as a livestream for those unable to attend. The 2021 event was entirely virtual.
In addition to financial support, the program is in need of diapers, baby wipes and other supplies. For more information about Our Mother's House or to help, please call 941-485-6264 or email Shannon.Hoyt@catholiccharitiesdov.org. You can also visit www.catholiccharitiesdov.org to donate or find the Wish List.