Every player who participates in a team sport dreams of finishing off a season with a win, this often means a championship and glory. For the team that falls in the last game of the season, there is the disappointment of what could have been.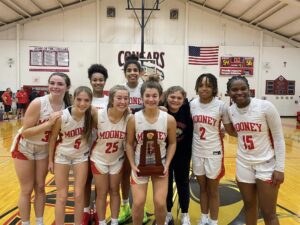 For the Cardinal Mooney Catholic High School Lady Cougar Girls Basketball Team, the last three seasons have ended in the Florida State High School Athletic Association 3A State Championship Game. Each game was a loss.
The Cougars from Sarasota fell to Miami Country Day 54-38 on Feb. 25, 2023, at RP Funding Arena in Lakeland. Mooney was seeking its first state title while Country Day earned its 8th, and second in 3 years over Mooney.
The championship was the final game for senior star Olivia Davis, who ended with 10 points. The coach of Country Day told reporters after the game that his team focused on shutting down Olivia because of how good a player she has been at Mooney.
"Yeah, their coach just told me I was a main part of their scouting report," Davis told reporters. "I kinda expected it coming into this, especially as big of a game as this is."
Davis reached the 1,000-point career milestone in January and will graduate behind a legacy of leading her team to three straight state championship games.
Cardinal Mooney coach Marlon Williams said the team will miss Davis' passion, but has a bright future as 7 of the eight players will return next year.
Mooney leaders in the final were Bri Behn's 17 points and Sam Kotasek's 10 rebounds.
While the Cougars finish the season with a loss, their 21-6 record was impressive, as was this third run at a state title.
Information from the Sarasota Herald-Tribune was included in this report.