Religious Education classes across the Diocese of Venice were put on hold with the suspension of all Parish activities through at least Easter.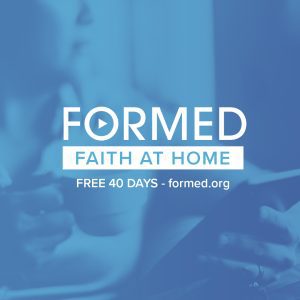 This does not mean that religious education teachers are not staying connected to their pupils. Through an agreement with the Augustine Institute, both religious educators and students have been granted free access to FORMED, an online religious education resource with thousands of movies, programs, classes and books made available.
Diocese of Venice Director of Religious Education, Anne Chrzan, provided catechists across the Diocese with a resource guide for religious education classes that are now online.
A note was sent to parents to inform them of the opportunity to continue the exploration of the Catholic Faith through the Augustine Institute for free. "FORMED is a great way to help you and your entire family understand, live and share the Catholic faith… (allowing) instant access to faith-fueling, inspiring and informative stories, teaching and more. Feel free to share this link and information with your friends and family.
Additional outreach from the Diocese and Parishes to parents and students will continue as long as in-person classroom instruction is not an option.
Periodic pertinent updates will be forthcoming as soon as possible with regard to those in Rite of Christian Initiation of Adults (RCIA) programs, as well as the status of confirmation classes and others seeking First Holy Communion.