Blood drive a success
St. Peter the Apostle Parish in Naples, in conjunction with the Knights of Columbus Council 12178, helped make a blood drive on March 21 a huge success.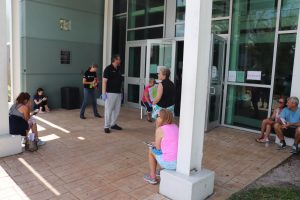 With the fears of the pandemic keeping people home, the blood drive was authorized by authorities to continue considering the urgent need for blood. Using the Ministry Center, Naples Community Hospital Healthcare System Community Blood Center bus was parked outside and classrooms in the building were used to process donors.
Precautions were made to ensure the health and safety of all. The Blood Center follows universal precautions and following guidelines issued from CDC and FDA to keep our donors safe.
Grand Knight Randy Thomas was initially worried no one would participate in the blood drive. With an initial sign-up of 21 donors, about 100 arrived to give blood. Because of the demand, and to ensure everyone stayed as prescribed social distancing, some donors made an appointment to donate blood later as need will continue.
"It is wonderful how the people of St. Peter's stepped up, even during time of uncertainty. Really wonderful," Thomas said.
St. Peter Pastor, Father Gerard Critch, stopped by to offer words of encouragement and to bless the Blood Center workers, volunteers and donors.
St. Vincent de Paul Society still helping
The St. Vincent de Paul (SVdP) Society districts throughout the Diocese of Venice may have shuttered their famous thrift stores, but they continue to help people in need.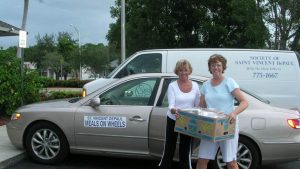 Responding to the pandemic, various programs that make a difference for those in need, such as meals on wheels, financial assistance and food pantries continue to operate under modified conditions which ensures both the health and safety of members, but also that of the the public at-large.
An example of this is opening food pantries for limited hours and by appointment and delivering food to the elderly twice a week instead of each day limiting personal contact and risks for all.
Those needing help or wanting to assist, are encouraged to contact their local SVdP Society offices for details.
Bradenton food pantry operating, needs donations.
Volunteers at the St. Joseph Food Pantry in Bradenton are focused on ensuring there is enough food for all in need. Busy on any day of year, the food pantry is the largest in Manatee County serving more than 1,200 individuals and families each month, there has been an immediate demand for more for whatever the pantry can provide.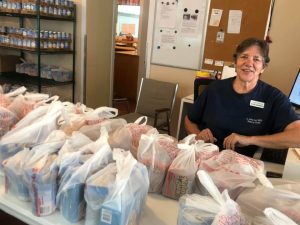 An appeal for food the week of March 23 brought a huge response and helped to temporarily restock the shelves, but the need remains strong. Donations of nonperishable food are needed, but specific needs include the priorities right now is for donations of pasta, rice, potatoes, cereal, peanut butter and jelly, as well as canned meat and fish.
Precautions are being taken for those making donations and handling the food. People are being asked to make drive-up donations from 9 a.m.-noon, Tuesday through Thursday. Cars are to enter the church parking lot at 2704 33rd Ave. W. From there, signs are posted to direct people to the appropriate drop-off location. Call if you have any questions 941-756-3732.