Susan Laielli – Florida Catholic
Venice – The Diocese of Venice Youth and Young Adult groups accepted the challenge of creating films with a Religious Freedom theme during the United States Conference of Catholic Bishops' (USCCB) designated Religious Freedom Week, June 22-29.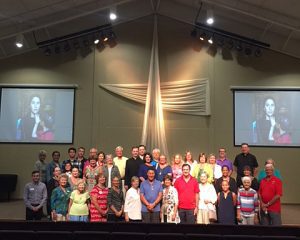 In all, six films were submitted to the Diocese of Venice 14-Day Film Festival by Diocesan youth and young adults, who had from June 7-21 to produce films that could be up to up to 10 minutes long. The films were featured at three Diocesan showcases: June 26, Cardinal Mooney Catholic High School, Sarasota; June 27, St. Agnes Parish Hall, Naples; and June 28, Our Lady of Light Parish Hall, Fort Myers.  Electronic voting for each film was open through July 6.
Films were submitted by Youth and Young Adult groups from St. Joseph's Parish in Bradenton, Our Lady of the Angels Parish in Lakewood Ranch, St. Agnes Parish in Naples, St. Peter the Apostle Parish in Naples, St. Leo the Great Parish in Bonita Springs, and St. Raphael Parish in Lehigh Acres.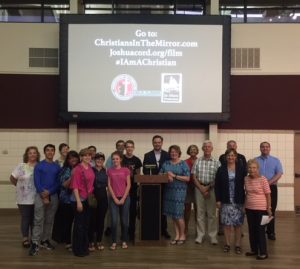 "Our youth worked with our young adults to learn about video production and editing, as well as on the topic research," said Theresa Barbale, Director of Youth and Young Adult at St. Peter the Apostle in Naples.  "It was good for those with experience to teach the younger kids."
Attendees at St. Agnes Catholic Parish spanned multiple generations, and expressed joy that the middle school aged children are learning about Religious Freedoms, and the subtle infringements on those liberties.
At each of the events, the co-producers of a soon-to be released documentary on Christian persecution, Patrick Carberry and Jordan Allott, presented newly gathered footage and discussed what they learned from Christians in small villages that were decimated by ISIS, or other extremists. The film, "Christians in the Mirror," is produced by In Altum Productions, and is set for release in August.