Staff Report
7/13/2018
The futures of five Sarasota-area students will benefit from the legacies of those who left us with their memories. Knights of Columbus Council 7826 St Thomas More (Sarasota) presented five scholarships to students who will attend Cardinal Mooney Catholic High School this fall.
The scholarships awarded and their recipients were:
Richard A. Schwehr Memorial Scholarship – Daniel A. Ramirez
Angele Ciancuilli-McAlonie Memorial Scholarship – Joseph A. Sassano
Lance Cpl. Patrick Ryan Adle Memorial Scholarship – Liam J. Donovan
Hank Peppard Family Memorial Scholarship – Michael L. Thayer
Jeffrey C. Jeffers – Memorial Scholarship – Leo E. Ramirez II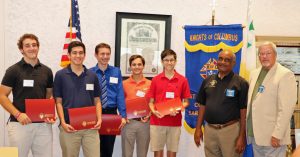 Each scholarship is worth $500 towards attendance at Cardinal Mooney. This is the second year that K of C Council 7826 has awarded scholarships, and increased the inaugural awards by two for the coming school year.
The students all had family and benefactors in attendance, and the awardees included two brothers.
Scholar Joseph Sassano said he was honored to receive the scholarship as it will help with some of the expenses of going to Cardinal Mooney. "Cardinal Mooney is a great school and the Knights are very generous with this scholarship and this support."
It was in early 2016 when a Knight proposed to the general membership the idea of offering a scholarship to promote Catholic education for a student(s) attending Cardinal Mooney Catholic High School in Sarasota, explained Deputy Grand Knight Ken Berberich.
The major hurdle at that time was how a single recurring scholarship could be perpetually funded. In a sad twist of fate, a long-time Knight from the Council passed away and his widow decided to make a donation to the Council in his memory, Berberich said. In 2017 the Knights offered three scholarships with that increasing to five in 2018.