Staff Report
7/13/2018
Bishop Frank J. Dewane announced the appointment of Dr. Ben Moore, Ed.D., as Superintendent of Catholic Education for the Diocese of Venice, effective, July 2.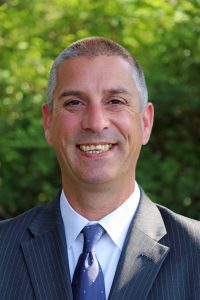 "I am very pleased that Dr. Moore has joined the Diocese of Venice in this leadership role. His extensive experience, skills, and passion for Catholic education will support the Diocese in its mission to continue providing the highest educational standards, while maintaining focus on Catholic instruction and identity" said Bishop Dewane.
In his new position, Dr. Moore will be responsible for the Office of Catholic Schools in the Diocese of Venice in Florida which consists of 16 schools and 4,777 students, the Institute for Catholic Studies and Formation, as well as the Office of Religious Education which supports sixty-one 61 parishes.
He is a seasoned professional with a successful record of leadership in education.  His career within education ranges from his most recent position as Superintendent of Portage Lakes Joint Vocational School District in Uniontown, Ohio, to prior assignments as District Director of Curriculum, Associate Principal for Curriculum and Technology; Director of Technology.  Earlier he taught Business and Information Technology Education as well as Special Education at the middle school level. He also served as Board President of St. Michael School Advisory Board in Canton, Ohio.
Dr. Moore is a graduate of Washington and Lee University with a Bachelor of Science in Business Administration; he holds a Master of Science in Business Information and Technology Education from Virginia Polytechnic Institute, a post-Masters Certificate in Education Leadership from Virginia Commonwealth University and a Doctorate of Education in Leadership Studies from Ashland University.
Dr. Moore stated, "I am humbled and blessed to assume the role of Superintendent of Catholic Education of the Diocese of Venice. I am grateful for the opportunity to apply my education and experience in service of our faith. Partnering with families and schools I will work tirelessly in pursuit of our common goal to prepare all students to be servant leaders and disciples of Christ. I am excited to continue the tradition of excellence within the schools of the Diocese and I look forward to contributing to future success."
Dr. Moore has recently moved from Ohio to Sarasota with his wife and his two daughters who will be attending St. Martha Catholic School and Cardinal Mooney High School in the Fall.
The Diocese of Venice in Florida, Office of Catholic Schools offers a superb education infused with Catholic values, teachings and traditions that are centered in Christ, rooted in the Gospel and alive in the Faith through 10 Grade Schools, three High Schools, one Special Education Grade School and one Academy K-12.  In addition, the Institute for Catholic Studies and Formation facilitates the need for both post-secondary professional development as well as comprehensive, lifelong and systematic formation for adults; and, the Office of Religious Education supports the 61 parishes in the Diocese through catechetical leadership and guidance in the faith formation of Adults, Youth and Children.
Please join in welcoming Dr. Moore to the Catholic Center and to the Diocese of Venice.