Bob Reddy – Florida Catholic
7/13/2018
For six consecutive Tuesdays the faithful are gathering for a spiritual evening of prayer, fellowship and inspiration.
The "Grillin' with Grace!" series is an pilot outreach of the Office of Evangelization seeking to engage the faithful on relevant issues in a casual setting. Having commenced on July 3 at Incarnation Parish in Sarasota, the series continues at 6 p.m. each Tuesday evening in July at the same location, as new speakers and topics are discussed. The culminating event in the series will be Tuesday, Aug. 7 and will take place at the Siesta Key Beach Pavilion in Sarasota when the guest speaker will be Bishop Frank J. Dewane.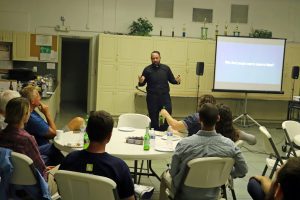 The first gathering in the series on July 3 began at 6 p.m. with a Holy Hour that included Eucharistic Adoration and the praying of the rosary. A fresh-cooked barbeque dinner followed. When everyone had a chance to eat a hearty meal, the evening transitioned into a talk from guest speaker Father Casey Jones, who is Chaplain at Bishop Verot Catholic High School in Fort Myers and Campus Minster at Florida Gulf Coast University.
During his talk, Father Jones explored the question as to why Catholics don't go to Mass. When queried, those gathered were quick to note that the Mass can be repetitive and not inspirational. Others noted that some parishes are not welcoming meaning they become isolated in their Faith.
Father Jones said this sad reality is a failing on the part of many, from the priests on down to those in the pews who arrive late and leave early. "It almost as if they are there to receive a cookie and that's it. The Mass is so much more"
The Mass is a presentation of the Gospel, Father Jones explained, the reality of the events of salvation made present. The Gospel is defined as the Good News of Salvation.
"Most Catholics don't seem to realize that," Father Jones said. "The Mass can never be boring. We are there to participate in the inner life of Christ and to be sent out to proclaim the Gospel – the Good News of Salvation."
Father was concerned that people feel alone at the Mass, since the Mass, whether with one person, a hundred or thousands, is really a celebration with the entire Church in heaven and earth, is present as one.
A young man, who said he drifted away from the faith for several years before returning, suggested that priests take just a minute or so out of each homily to speak of the Good News of Salvation as a gentle reminder for all, but specifically for those who may have never learned or may have forgotten what the Mass is all about. "I don't remember learning any of this growing up Catholic," he said. "I learned it when I returned and explored my faith more deeply."
Others mentioned that the catechesis they received as children is long forgotten. One young lady mentioned that she benefitted from two different week-long summer religious retreats. These retreats opened her eyes to the Faith in ways she had not experienced earlier in life. "We talked about the Faith at home, but it wasn't until later that I realized the beauty and joy that the Mass has to offer."
For more information about "Grillin' with Grace!" please visit www.dioceseofvenice.org/offices/daily-resources/calendar/.