Bob Reddy – Florida Catholic
12/20/2018
Theology on Tap offers an innovative solution to one of today's most pressing pastoral concerns: how to reach out to young Catholic adults.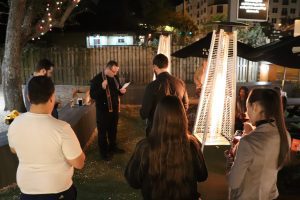 With successful ongoing efforts in Naples, Fort Myers and Lehigh Acres, Joshua Mazrin, Diocese Director of Evangelization, decided to try to reintroduce the Theology on Tap concept in the Northern Deanery.
The first gathering was Dec. 6 at the Mandeville Beer Garden in downtown Sarasota, just a few blocks from St. Martha Parish. The bar includes an outdoor deck which offered the ideal location for fellowship and a discussion about the Faith in a comfortable and relaxed setting.
Several years ago, Theology on Tap rotated between Parishes in the Northern Deanery, but interest waned when there was a large gap one summer.
Mazrin said this first reintroduction, which had little promotion, drew about 20 people, and served to gauge interest in the concept as well as to help build momentum for having future monthly gatherings with different topics and speakers.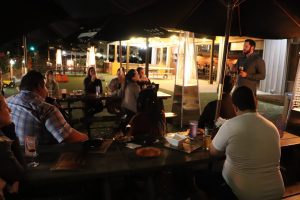 "It can often be difficult for young adults to stay connected to the Faith," Mazrin added. "As a young Catholic, it can be easy to feel left out of the Parish because few activities even hold their interest. Sadly, young adults can sometimes be overlooked to the extent that even their absence goes unnoticed."
Two priests were present for the Sarasota gathering. Father Eric Scanlan, Administrator of Incarnation Parish in Bradenton and Diocese Vocations Director, as well as Father Shawn Roser, a Parochial Vicar at St. Joseph Parish in Bradenton who was ordained in July, joined in the fellowship.
Father Roser also offered the opening prayer, which included a blessing for success of the event, the growth in faith for all and for the beverages being consumed.
The idea of Theology on Tap is to bring together young adults where they feel most comfortable while inviting them to discover how Faith can give sense to their everyday lives. The evenings are about coming together to socialize, collaborate, pray, and grow in their spiritual understanding all while building a strong core community.
"This has real potential," Mazrin said. "We just need to spread the word."
Based on the response of those who attended in Sarasota Theology on Tap, the word will spread.
One young lady had several people in mind whom she plans to invite to future Theology on Tap gatherings. "This was really nice," she said. "Meeting Catholics my age is always hard. Plus, it is a struggle to live my Faith because I just don't have a real connection to my Parish."
Mazrin noted that the next gathering will be Jan. 24 and more details to announced through the Diocese Young Adults Facebook page at www.facebook.com/DOVYoungAdults.
While the Sarasota area Theology on Tap is just returning, the Naples area gatherings are going strong. The site of the gatherings rotates each Tuesday throughout the month at different parishes and are held from 6:30 p.m. to 8 p.m. on Tuesdays: First Tuesday at St. John the Evangelist Parish, 625 111th Avenue North; Second Tuesday at St. Agnes Parish, 7775 Vanderbilt Beach Road; Third Tuesday at St. Peter the Apostle Parish, 5130 Rattlesnake Hammock Road; Fourth Tuesday at St. William Parish, 601 Seagate Drive. Call the individual parishes for further details as some gatherings are held off-site.
In Lehigh Acres, the LOFT young adult group meets at 6 p.m. on the third Monday of each month at St. Raphael Parish, 2514 Lee Blvd. Call 239-369-1831 for further information.
In Fort Myers, ROOTED meets first Thursday of the month, St. John XXIII Parish, 13060 Palomino Lane, Call 941-561-3022 ext. 107.
For more information about Theology on Tap, or if you have ideas about how to reach out to young adults Catholics, please contact Joshua Mazrin at mazrin@dioceseofvenice.org.