Msgr. Joseph A. Ferraro, a retired priest who served 30 years as a military Chaplain, was a priest of the Diocese of Oakland and in retirement assisted at Parishes in Manatee County, died Dec. 18, 2020 at the age of 79.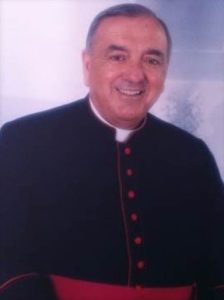 Born in Philadelphia, Pennsylvania in 1942, as a young man Msgr. Ferraro attended Catholic schools is Bristol Borough, Pennsylvania.  and later attended Holy Trinity College and St. Mary's Seminary, both in Baltimore, Maryland, and he was ordained to the priesthood May 20, 1967, in Baltimore for the Trinitarian Order (Order of the Most Holy Trinity).
As a priest, Msgr. Ferraro first served as a Prison Chaplain in New Jersey, as well as assisting at St. James Parish in Trenton, New Jersey before becoming a teacher at DeMatha Catholic High School in Hyattsville, Maryland.
In 1969 he was commissioned an officer in the U.S. Navy, which led to a 30-year career as a Navy Chaplain. While a Chaplain, he served with the U.S. Third Marine Division, Vietnam, followed by duty with the 3rd Battalion 4th Marines, Okinawa; U.S. Coast Guard Training Center, Petaluma, California; Marine Corps Air Station, Iwakuni, Japan; Construction Battalion Center-Seabees, Port Hueneme, California; Naval Support Activity, Naples, Italy; Oakland Naval Hospital, Oakland, California; and the aircraft carrier USS Carl Vinson, Alameda, California. He was promoted to Captain in 1986. Father also served as Command Chaplain, U.S. Pacific Submarine Force, Pearl Harbor, Hawaii; Marine Corps Recruit Depot, San Diego, California; Marine Corps Air Station, El Toro, California; and then with the U.S. Naval Forces, Rota, Spain. Msgr. Ferraro was Incardinated to the Diocese of Oakland in 1988.
It was in 1999 that he was selected by St. John Paul II as honorary prelate, garnering the title of Monsignor. That same year Msgr. Ferraro was also awarded the Legion of Merit, a military award of the U.S. armed forces that is given for exceptionally meritorious conduct in the performance of outstanding services and achievements. In 1979, he was awarded a Navy and Marine Corps medal for heroism when he saved the lives of a family in Oxnard, California, which was being held hostage by a distraught woman.
Within the Diocese of Venice, Msgr. Ferraro assisted primarily at Holy Cross Parish in Palmetto as well as at Ss. Peter and Paul the Apostles in Bradenton and Our Lady of the Angels Parish in Lakewood Ranch and at St. Patrick Parish in Sarasota. He was recognized as a Golden Jubilarian during the 2017 Diocese of Venice Chrism Mass.
Funeral arrangements are pending. A Memorial Mass will be held at Holy Cross Parish at a later date. Please pray for the repose of the soul of Msgr. Joseph Ferraro and for the consolation of his family.