By Karen Christie – Special to the Florida Catholic
After 39 years of compassion, loyalty, and devotion to Cardinal Mooney Catholic High School, Sister Mary Lucia Haas, Sister of Notre Dame, the school's President, will be retiring at the end of the 2017-2018 school year. I had the pleasure to talk to Sister Lucia about this important time in her life, and asked what comes to her mind when she thinks about retirement. Laughing slightly, she replied with a question of her own: "What can I still do?" Her hope is to continue to help others around her.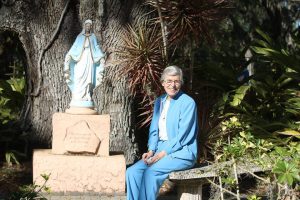 Sister Lucia grew up in the small town of North Ridgeville, Ohio, the youngest of eight children and later attended Erieview Catholic High School. After graduation Sister went to Notre Dame College in South Euclid, Ohio. Both were all-girls schools run by the Sisters of Notre Dame. She later attended the College of William and Mary in Virginia, where she received her Master's degree.
Since her favorite subjects were science and math, Sister Lucia originally intended to major in chemistry. The science program at Notre Dame College focused on students who intended to teach at the high school level. Sister found chemistry interesting, but she wasn't planning to go into the teaching field at that time.
Always a morning person, while in college she began attending 6:30 a.m. Mass every day with the religious sisters. As a sophomore in high school, she was approached by one of the sisters about possibly considering the religious life, but at that time her goals were centered more upon her scholastic work. Once in college, however, she felt the need to answer the calling that God wanted her to join the religious life by becoming a nun. The more she went to Mass, the more she realized that this was what she was meant to do.
Upon graduating from college, Sister Lucia received her first assignment, or "mission" as it is referred to by her religious order. She was first ordered to St. Peter's Catholic High School in downtown Cleveland, where she taught from 1963 to 1967. From 1967 to 1976, she was sent to Notre Dame High School in Middleburg, Va.
It was in 1976 that she first was assigned to Cardinal Mooney Catholic High School in Sarasota. During her first three years, she taught science, theology, and math, before being promoted to become the principal, a position she held for six years.
As is common for religious, she was moved again and in 1986 she was assigned as the new principal at Lorraine Catholic High School in Ohio. Her final move came in 1989 when she returned to Cardinal Mooney for good, eventually earning the title of President.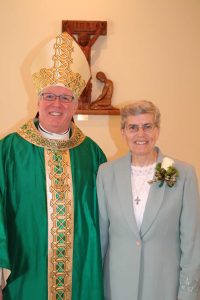 "When I think of her contributions I think of the difference just one person can make," said Father Matthew Grady, Cardinal Mooney Chaplain. "In a word, I would say Sister's ministry is an example of: commitment."
Sister Lucia notes that her first memory of Cardinal Mooney was of the palm trees and how the air was so dry. The school environment, though, was very similar to where she grew up in Ohio.
When asked about notable experiences, Sister replied that she found the duties concerned with building new facilities on campus to be the most challenging of the experiences in her career. Describing her most rewarding times at Cardinal Mooney, Sister Lucia reflected on how many graduates have come back to visit the school during one of their college breaks, and how appreciative they were to have had the opportunity to go to a high school that prepared them for college, and life thereafter.
Outside of work, it may surprise people to know that Sister Lucia likes to golf and fish, although fishing is more of a fond childhood memory of time spent with her siblings.  One of the things she hopes to do when she retires is to become proficient in the use of technological devices, including her iPad and iPhone.
In addition, Sister Lucia has a friend who volunteers at the Cosgrove Center, located in North Ridgeville, Ohio, which is dedicated to helping the homeless. Sister herself can no longer drive, but she hopes to be able to go with her friend a few times a week to provide her services and help feed and clothe the homeless.  Ironically, the center for the homeless is located in what used to be her alma mater, Erieview Catholic High School. At the Cosgrove Center, Sister wants to continue to fulfill God's calling by being kind and helpful to others just as they have been to her. "I started where I'll be ending up," Sister says thoughtfully.
When asked what she feels is her strongest quality, she can always manage to look and act cheerful even when she may feel frustrated or upset on the inside. She is so thankful to have been in great health for many years.
Her motto, or philosophy in life is simple and sweet: "God is good!"
Sister Lucia has been such a valuable asset to Cardinal Mooney Catholic High School. It is easy to see that during both the challenging and rewarding times, she has always remained positive. More importantly, throughout her Mooney career, Sister reflected how her dedication and faithfulness ensured that the school provides a positive example for student's lives by living her own philosophy each day.
As Sarah Gates, a Cardinal Mooney Theology teacher and former Mooney student puts it, "Sister Lucia's commitment to God shines through in the work she has done at Cardinal Mooney and in the community of Sarasota."
Father Grady, calls Sister Lucia "a fellow worker in the Lord's vineyard who never counted the hours, but was delighted by every moment she spent with us."
Congratulations Sister Lucia upon your retirement. Thank you for your years of service. May the Grace of God go with you as you begin the next chapter in your life.