By John Carkeet IV, Special to the Diocese of Venice
Diocese of Venice Catholic School development professionals gathered at Naples Grande Beach Resort June 13-15, 2022, to learn effective fundraising tools, tactics and strategies during the Petrus Development Conference 2022.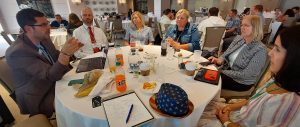 Representatives from Donahue Catholic Academy at Ave Maria Parish, Epiphany Cathedral Catholic School in Venice, St. Ann Catholic School in Naples and St. John Neumann Catholic High School in Naples, each joined hundreds of fellow fundraising professionals from across North America to share ideas, address challenges and forge partnerships.
Hosted by Petrus Development, a nonprofit organization dedicated to helping Catholic and faith-based nonprofits raise more money so that they can accomplish more of their mission, the three-day conference included keynote addresses, interactive workshops, and small group breakout sessions. Topics covered every stage of the development process from enhancing donor relations to assessing capital campaigns.
The Diocese of Venice attendees also received a complimentary, one-on-one consultation with members of Petrus Development. The consultation offered an authentic conversation on how the schools can better define their goals and communicate to donors. The participants leaned how they can support the mission of Catholic schools: to prepare students to lead meaningful lives, rooted in the teachings of Christ in our Catholic tradition.