Priestly Ordination to be Livestreamed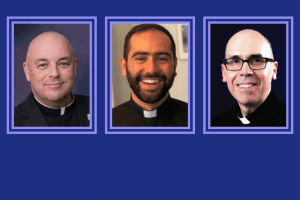 Bishop Frank J. Dewane invites the faithful to watch, via a livestream, the Ordination to the Priesthood of Transitional Deacons Christian Chami, David Portorreal, and Michael Young at 11 a.m., Saturday, July 16, from Epiphany Cathedral in Venice. The Ordination, presided over by Bishop Frank J. Dewane, will be livestreamed via the Cathedral at www.facebook.com/epiphanycathedral. Links will also be available via the Diocesan website, www.dioceseofvenice.org, or the Cathedral website, www.epiphanycathedral.org. The livestream will begin a few minutes before 11 a.m. and be accessible later for those unable to watch live. Please note that you do not need to have a Facebook account to watch the livestream.
Appointments
After consultation, Bishop Frank J. Dewane announces the following:
Father Anthony Armstrong, O.Carm., appointed as Pastor of Our Lady of Mount Carmel Parish in Osprey, effective July 1, 2022.
Father Frederick Tillotson, O.Carm., retired as Pastor of Our Lady of Mount Carmel Parish in Osprey, effective July 1, 2022, and thus, is relieved of his duties as Pastor of Our Lady of Mount Carmel Parish.
Father Patrick Wilson, S.A.C., retired as Parochial Vicar of St. Martha Parish, effective July 4, 2022, and thus, is relieved of his duties as Parochial Vicar of St. Martha Parish.
Father Alexander Pince, appointed as Parochial Vicar of Epiphany Cathedral in Venice, effective July 1, 2022, as he completed Licentiate Studies in Moral Theology at the Pontifical University of the Holy Cross in Rome.
Former Naples Pastor dies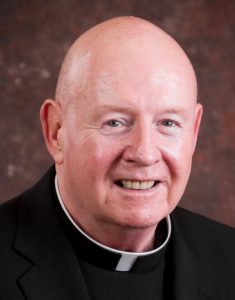 Father John M. O'Neill, Oblate of St. Francis de Sales, former Pastor at St. Ann Parish in Naples, died July 9, 2022, at the age of 77. Ordained to the priesthood on June 9, 1973, Father O'Neill served at schools and Parishes in Ohio, New York, Virginia, and Pennsylvania. Father was also assistant to the President of DeSales University and held several positions with the Oblates. Within the Diocese of Venice, Father O'Neill served as Parochial Vicar of Our Lady of Light Parish in Fort Myers from 2005-2008, and as Pastor of St. Ann Parish from June 2008 to March 2009. Father also served as a teacher at Bishop Verot Catholic High School in Fort Myers. A Mass of Christian Burial was held Thursday, July 14, 2022, at the Oblate Community Chapel in Childs, Maryland. Please pray for the repose of the soul of Father O'Neill, and for the consolation of his family.
Food pantry needs help
The St. Joseph Food Pantry in Bradenton is in need of peanut butter. This staple is an important part of the pantry's Family Bags and provides a key source of protein for children in need in Manatee County. The Food Pantry is happy to accept bulk, large, and small containers of peanut butter, as well as other non-perishable food items. If you wish to make a financial contribution, your donation can be doubled thanks to a partnership with the Flanzer Trust. Donations can be delivered to 2704 33rd Ave. W. Bradenton, FL  34205, Monday thru Friday 9 a.m. till noon. Please call 941-756 3732 or email directors@stjoepantry.com if you have any questions or if you need to make arrangements for drop off. For more information about how you can help, please visit www.stjoepantry.com.
Marking 60 years of religious life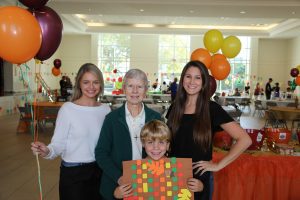 Sister Maureen Carroll is a Missionary Sister of the Most Sacred Heart of Jesus (MSC) and is marking 60 years of religious life in 2022. A teacher at St. Ann Catholic School in Naples since 1989, Sister Maureen has taught grades 1 to 4 in Catholic schools in Pennsylvania, Georgia, Illinois and Florida. Sister is a Support Teacher and teaches 2nd grade Religion at St. Ann and says her greatest joy is to lead the children to Jesus through the Sacraments of Reconciliation and Holy Eucharist. Congratulations Sister Maureen!
Parish hosts annual 4th of July Picnic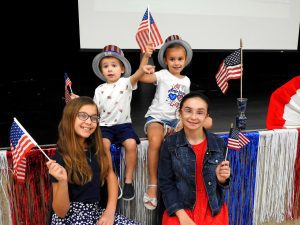 St. Charles Borromeo Parish in Port Charlotte hosted its annual Fourth of July Family Picnic which drew hundreds to celebrate our nation's freedom and the opportunity to enjoy some good food made by the parishioners.
St. Andrew alumnus named MLB All-Star
Congratulations to 2012 St. Andrew Catholic School Alumnus Shane McClanahan on being selected to his first career MLB All Star game, as starting pitcher representing the Tampa Bay Rays. McClanahan went to Cape Coral High School and then University of South Florida. He was the 31st Pick overall in 2018 MLB Draft for the Rays. In his second season in the majors, the lefthander has a 9-3 record, with a 1.73 earned run average and 141 strikeouts.
Independence Day Bike and Golf Cart Parade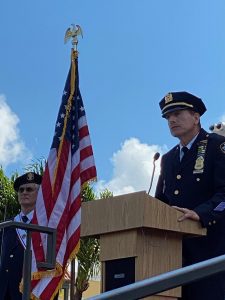 The Knights of Columbus Ave Maria Assembly 3862 hosted the 6th annual "God Bless America" Independence Day Bike and Golf Cart Parade in Ave Maria. The ceremony began in the Piazza on the steps of the Church and included patriotic songs, prayers for our country, then a "Blessing of the Bikes." The parade, which drew more than 500 people of all ages, include motorcycles, bicycles, trikes, golf carts, skateboards, and strollers all led by a fire truck.