The Sacrament of Holy Matrimony is a sacred bond between a man and a woman which reflects the honor, love, commitment and fidelity each demonstrates for the other.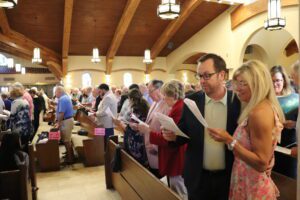 In celebration of that commitment, each year Bishop Frank J. Dewane invites couples married 25, 30, 35, 40, 45 and 50+ years to a Mass in their honor as witnesses to a beautiful vocation for younger generations to see and admire. This first such Mass in 2023 was Feb. 4 at St. Leo the Great Parish in Bonita Springs. Present were 270 couples representing a combined 14,002 years of marriage.
"What a beautiful sight from up here," Bishop Dewane said. "We are here to celebrate the love and commitment you and your spouse made all those years ago. We gather here to give thanks to the Lord, and we gather to recognize all of you at the table of the Lord, for the marriage that you have, for your fidelity, as well as for your entering into the Sacrament accompanied by God."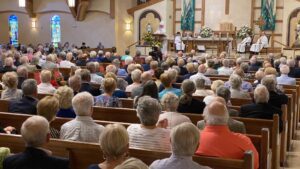 Bishop Dewane noted how Pope Francis described married couples as Icons of God – neither being more than the other, but only together do they combine to make the image of God complete. For this reason, the Bishop said it is right that the Mass is celebrated and acknowledges the couples for the life and commitment they made before God, to each other.
"You are a gift to the Diocese, to your children, to your grandchildren and to the younger people in the Diocese, you offer them great hope," Bishop Dewane said. "You offer them a future. You are an example for others to follow. The life that you as married couples live – in kindness and fruitfulness – is unique in what it contributes to society. What a wonderful gift you give to the world."
The couple recognized as being present with the longest marriage were David and Peggy Hiller, who will be marking 72 years on May 4. They attend Resurrection of Our Lord Parish in Fort Myers and grew up in Ohio, first meeting on an ice rink. They spent their life working together in farming: cows, chickens, pigs.  Peggy helped David drive the tractors so now he says he returns the favor by washing the dishes. They raised four children and eventually bought a home in Fort Myers 40 years ago and now split their time between Florida and Ohio.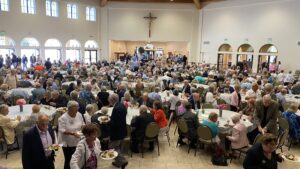 The 270 couples present for the Mass represented 25 Parishes and included 30 couples which have been married 50 years. Three couples celebrated their actual anniversary on the day of the Mass. They included: Gerald and Sharon Allen, 62 years, St. Therese Parish, North Fort Myers; Morris and Christina Cirlincione, 56 years, St. Ann Parish, Naples; and Charles and Colleen Faris, 50 years, St. Finbarr Parish, Naples.
John and Paulette Donlon of St. Leo the Great Parish have been married 63 years. They met in high school and built a life together in Michigan. They said the ability to have Christ at the heart of their marriage has helped them overcome any challenges.
"Marriage is about being there for each other, no matter what," Paulette Donlon said. "You love each other. You get through struggles because you remember that you made a commitment at your wedding before God. That is real. That is serious. That puts everything in perspective."
During the Mass, the married couples renewed their wedding vows. In addition, each couple was presented with commemorative certificates, signed by the Bishop, for their enduring commitment to marriage.
A reception followed the Mass with lunch and the opportunity to have complimentary pictures taken with the Bishop.
Masses are celebrated each year in the northern and southern sections of the Diocese of Venice so as to accommodate those wanting to attend. The second Mass is 11 a.m. Feb. 18, at Epiphany Cathedral, 350 Tampa Ave., Venice (registration is through your Parish and walk-ins are welcome).