Seminarian instituted to Ministry of Acolyte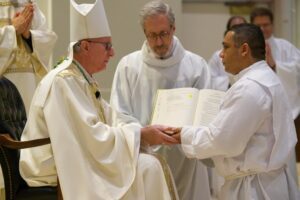 Diocese of Venice Seminarian Carlos Andres Galeso was instituted to the Ministry of Acolyte on Feb. 8, 2023, at Pope Saint John XXIII National Seminary in Weston, Massachusetts. Bishop John Noonan, Bishop of the Diocese of Orlando, presided over the institution of 10 men. The Mass of institution plays a significant role in the formation of these men as they journey towards ordination to the priesthood. An acolyte's primary role is to assist the deacon and priest during Mass. They may also serve as Extra-ordinary Ministers of Holy Communion, bring the Holy Eucharist to the sick, and assist the priest and deacon during other liturgical celebrations and devotions. Please pray for Seminarian Galeso and all discerning a vocation to the priesthood as they continue their formation to become priests who will serve God and His people.
Longtime financial advisor to Diocese dies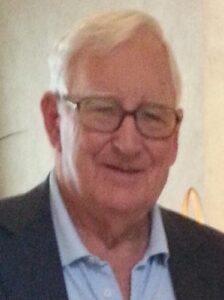 Ernest Clinton Skinner, 86, a longtime chair of the Finance Committee of the Diocese of Venice, passed away in Venice on Jan. 16, 2023. Skinner was a U.S. Army veteran and worked with IBM and later ATT (later known as South Central Bell and BellSouth) as a member of their management team. He lived in New York, Kentucky and Alabama. While in Alabama, Skinner volunteered with the Diocese of Birmingham, before retiring to Venice in 1993. In Venice, he was an active community volunteer and until his death served as the Vice Chair of the Board of Trustees for the City of Venice Police Officers' Pension, was a member of the Board of Directors of SERTOMA, and also served on the Finance Committee for the Diocese of Venice for more than 30 years, most of those as Chairman. In addition, he was a member of the Equestrian Order of the Holy Sepulchre of Jerusalem. Skinner is survived by his wife of 65 years, Anne "Polly" Windeler Skinner, their three children and four grandchildren. Bishop Frank J. Dewane will celebrate the funeral Mass at 11 a.m. on Feb. 25, 2023, at Epiphany Cathedral in Venice. Visitation with the family starts at 10 a.m.
Eucharistic Exhibition held in Fort Myers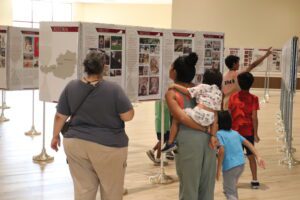 As part of the National Eucharistic Revival, the Vatican Exhibit of the Eucharistic Miracles visited St John XXIII Parish in Fort Myers from Feb. 9 to Feb. 12, 2023. The exhibition contained 146 Eucharistic Miracles by country and were available in English and Spanish. This exhibition was designed by Blessed Carlo Acutis, who dedicated years to collecting information from historical records, maps and photographs of the Eucharistic Miracles that have taken place in several parts of the world. In addition to the display, there were activities for young school children called "The Eucharist: The Great Miracle."
Cape Coral school celebrates growth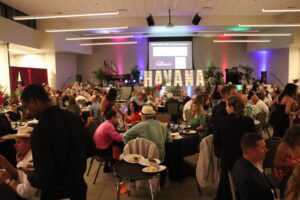 The St. Andrew Catholic School Gala, entitled "Havana Nights" took place Feb. 11, 2023, at Marian Hall of St. Cecilia Parish in Fort Myers. The evening was a celebration on many levels as portions of the school community continue to recover from Hurricane Ian, and the school has experienced more than 40% growth in the past few years with current enrollment at 562 students. The event included dinner, silent and live auctions, cash raffle drawing and entertainment and dancing.
Students make Valentine's for nearby assisted living facility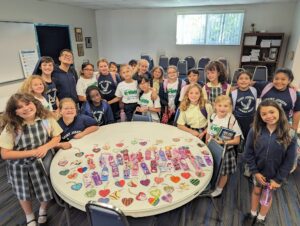 K-Kids at St. Joseph Catholic School in Bradenton created Valentine's Day bookmarks and heart ornaments which were then delivered to Truewood by Merrill, an assisted living facility near the school. This act of kindness brought joy to the residents. The K-Kids are part of a school Kiwanis Club which does service and outreach in the community.
Neumann students de-stress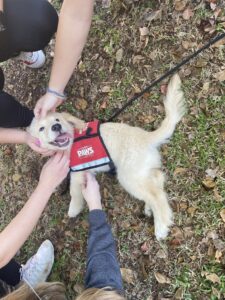 Harley, Dana and Max from the Golden PAWS Assistance Crisis Team (GPACT) Program, made a special visit to St. John Neumann Catholic High School in Naples for De-stress Day on Feb. 10, 2023. It was difficult to determine who loved the visit more, the students or the dogs.
School hosts evangelization team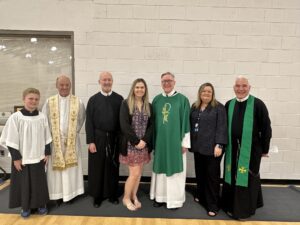 St. Martha Catholic School and St. Mary Academy in Sarasota welcomed the Redemptorist Team for Evangelization on Feb. 10, 2023. The three Redemptorist priests celebrated Mass for the students, along with Father John Belmonte, SJ, Diocesan Superintendent of Catholic Education. The Redemptorist priest also spoke to the students about letting their light shining and opening their eyes, ears and hearts to God.