Happy to see the teacher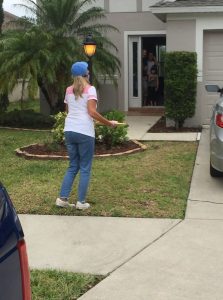 St. Martha Catholic School teacher Jane Greenamoyer recently delivered Learning Packets to her kindergartners. The students were excited to see her as she was greeted from afar by her students and their parents. One student even wrote in chalk on the driveway of their home "Thank You! Mrs. Greenamoyer!"
Art projects reflect masters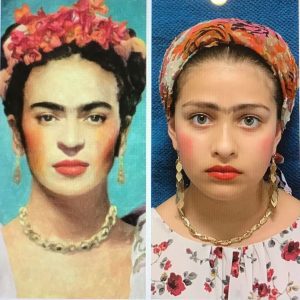 Art students at two Diocesan Catholic schools were recently tasked with a fun distance learning project: recreate a work of art using props from home. The AP Art History class at Bishop Verot Catholic High School in Fort Myers and the fifth through eighth graders at St. Ann Catholic School in Naples, were into the creative spirit of the projects and the results were impressive.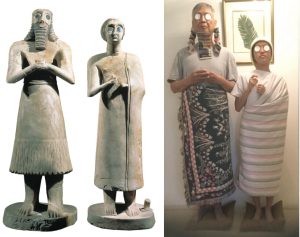 Verot senior builds signs to encourage others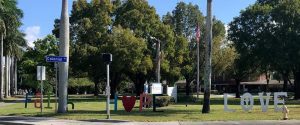 Bishop Verot Catholic High School Senior Christian Kearns has been using his time away from school in Fort Myers to encourage others. The words Faith, Hope, and Love on the corner of McGregor and Colonial Boulevards were designed, cut, painted, and delivered by Christian.
Teacher in the spotlight
St. Elizabeth Seton Catholic School in Naples has been highlighting the work of its teachers to share with the community is an online effort called "Teachers in the Spotlight." One recent example showed just how dedicated and committed the Seton teachers are to stay connected to their students. One of the families in Naples does not have Wi-Fi at their home which presents many difficulties during this time of Distance Learning. To help this family, 2nd grade teacher Dolores Martin travels to her student's home to drop off packets with assignments and needed materials. She drove over on a Sunday (April 19, 2020), to give a weekly spelling assessment in the student's driveway. Talk about going the extra mile to help your student.