Grandparents, a vital link to the past – most importantly as regard Faith – were welcomed to St. John Neumann Catholic High School in Naples for a special celebration.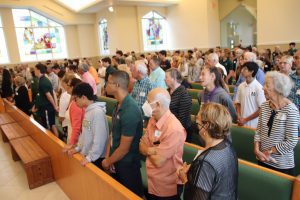 That celebration on Nov. 5, 2021, opened with a Mass celebrated by Bishop Frank J. Dewane as students sat with their grandparents in Our Lady of the Angels School Chapel. Afterwards, everyone went to the Student Life Center for a luncheon.
During the Mass, Bishop Dewane praised the Grandparents Day event as reflecting the true nature of the school – a family of faith with no limits. He also spoke about how we are all called to live out goodness in our lives through the Holy Spirit.
"Grandparents sing the praises of God in the traditions they pass down and in how they live their life," the Bishop said. "Let the light of the Holy Spirit make it more. More than visit roots, let it be the goodness that personifies who you are as more the man or woman of God you are called to be.
Bishop Dewane urged the students to listen to the grandparents more often, explaining that while they may not be as well versed in modern technology, they have the ability to understand the most difficult situations.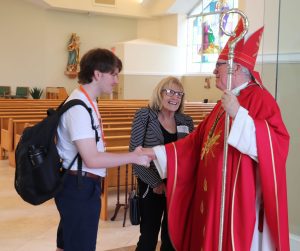 "You might say they are old, how can they know," the Bishop continued. "That is why they know. They have faced the same difficulties. Get the experience; get the wisdom they offer. We can all learn something from each other by looking for the goodness within yourselves and within your grandparents. Bring generations together."
Bishop Dewane concluded by praying for the grandparents, saying, "May the Lord bless each and every one of you grandparents and give you many more years allowing you to share the goodness the Lord has given you, to share your wisdom, to share your roots, and most of all, to share your Faith."
Following the Mass, several grandparents, and their grandchildren, thanked the Bishop for his presence and for acknowledging the roles both have to play in building up the faith of each other.
One grandparent said he is proud that his grandchildren have all attended Catholic schools. "Of course, my grandson is now getting the best education. My wife and I passed on the faith along to my children and grandchildren, but it has to continue. We have more to share. We are so pleased to see that lesson being enhanced here at St. John Neumann."