The 2020-2021 school year at St. Charles Borromeo Catholic School in Port Charlotte has been unique with precautions required by the ongoing COVID-19 Pandemic. However, it is also a time for celebrating the 60th Anniversary of the founding of the school.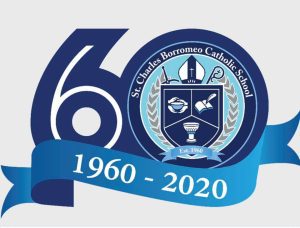 Events will be taking place throughout the school year with class and school projects helping each student become more aware of their important place in the school's history. Bulletin boards at the school include displays reflecting its history in Faith, faculty, uniforms, service, sports, music and more.
Principal Tonya Peters held an informal ceremony on Nov. 12, 2020 to reveal the contents of a time capsule which had been placed in a "Peace Pole" on the school grounds, next to a covered pavilion and the sports field. The event was delayed a day because the threat of Hurricane Eta.
"That's ironic because when the school opened in 1960, the first day was delayed by a hurricane," Peters explained.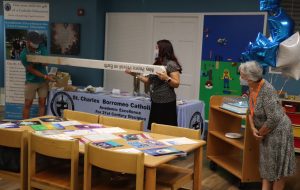 Peters, with the help of Collin Smith, an alum, parent and Home and School Co-President, emptied the pole/capsule to reveal the contents. The event was livestreamed to classrooms, as well as to virtual learners at home, to continue to ensure the safety of all students. Also present were Lily Solano of the School Board; Melissa Elsberry, first-grade teacher, parent and Co-President of Home and School; as well as Father Philip Scheff, School Chaplain.
The contents of the pole/capsule were wrapped in plastic bags with some being wet. The first item removed was a 1996 yearbook which immediately helped everyone realize what year the time capsule was created. "We had no idea," Peters explained. "That's 24 years ago. A long time. Let's see what else they included."
Moisture had damaged some of the items, but there were pictures of a student-teacher basketball game; a copy of the May 26, 1995 Florida Catholic in which featured a story about the school science fair; as well as individual prayers for peace written by students.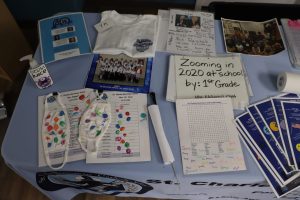 "That was fun, but it is only part of what we are doing today," Peters said. "We are creating our own time capsule. We have two stainless steel official 'time capsules' that will be buried in the same place we found this one. But, let's face it, we're 2020, we're different, and we had every class prepare something special."
Some basic items were natural to include, such as the mission statement, a list of current school leaders, a 2020 soccer team championship t-shirt, a baton with the school prayer, a magnet with the 60th Anniversary logo, as well as a picture of Bishop Frank J. Dewane and Pope Francis shaking hands.
The Pre-Kindergarten 3-4 classes placed fingerprints from paint and placed them and their names on masks and the kindergarten students provided a group photo (all wearing masks).
The first-grade class created a "Zooming in 2020 at School" packet which included drawings from the students demonstrating what can and can't be done while taking classes virtually. Examples of what is ok included paying attention and muting microphones when not asking or answering a question. Examples of what not to do included jumping on your bed, making silly faces, or playing with your pets.
The third-grade class provided a roll of toilet paper which was signed by all of the students. "It is so appropriate to have this and impossible for anyone to understand the great toilet paper shortage of 2020," Peters said with a chuckle.
Other grades created a prayer for the future; notes that represent themselves; a display describing the presidential election; a word search with names of the students; and a decade-by-decade recap of important cultural events since the school opened.
"This has been so exciting," Peters said. "We will place all of these new items into the time capsules and bury them. Maybe they will be opened in 24 more years, or even later."
Smith, the alumnus, parent and Home and School Co-President who helped to reveal the contents of the time capsule, said St. Charles Borromeo Catholic School has been a part of his family since before he was born, with his grandmother and mother both teaching at the school, and now his children attend.
"This is home for my family and so many more," Smith said. "It is a blessing to have St. Charles Borromeo Catholic School here in Port Charlotte."