Two swimmers from Catholic high schools in the Diocese of Venice repeated as Class 1A State Champions Nov. 15, 2020 at Sailfish Splash Park and Aquatics Center in Stuart.
Cardinal Mooney Catholic High School sophomore Michaela Mattes repeated as State Champ in the 500 Freestyle and took the title the 200 Individual Medley. Meanwhile, Conor Cranfield, a senior at Bishop Verot Catholic High School in Fort Myers, repeated as State Champ in the 500 Freestyle.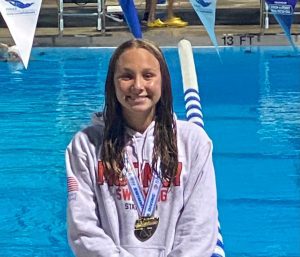 Mooney's Michaela took the 200 Individual Medley in 2:01.10, a time which earned her automatic All-American status with the National Interscholastic Swimming Coaches Association (NISCA). This victory comes in the same event in which she took silver in 2019. She repeated her 2019 performance in the 500 Freestyle with a dominating time of 4:47.19. She won the event by 7 seconds, again in All-American time.
"I'm extremely grateful for this season and I honestly did not think it was going to happen," Michaela said. "I'm so incredibly proud of my teammates for their hard work to get to States and it was all thanks to Coach Smithers. I'm so happy that I got the two wins this year and I have no words for how excited I am for next year. Hopefully there will be more medals to come in the future."
Verot's Conor won the same 500 Freestyle event as he did in 2019. He finished in 4:26.27, also earning All-American status. Teammate Ryan Staunch earned a 5th place medal in the same race. The Verot boys 200 Medley Relay team (with Conor, Ryan, Robert Flannery and Marcos Egri-Martin) finished third with a time of 1:36.83, a new school record.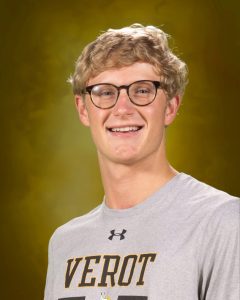 "We went out and did exactly what we wanted to do, both in the relays and in our individual events," Cranfield told the Fort Myers News-Press. "The top three (in the relay), that's something we've been gunning for since the beginning of the season. Everyone had great swims throughout the day, and we couldn't be happier as a team."
The Verot boys team finished 5th overall in Class 1A out of 33 teams. To earn that ranking, the team and individuals also did well in other events. The team took fifth in the 400 Freestyle Relay and 12th in the 200 Freestyle Relay. Conor took a sixth in the 200 Freestyle, while Ryan was 13th in the same event. Marcos finished seventh in 100 Breaststroke and 11th in the 50 Freestyle, while Robert took 11th in the 100 Breaststroke and 200 Individual Medley.
The Cardinal Mooney boys team also did well. Henry Linehan finished 14th in the 50 freestyle. Linehan teamed up with fellow teammates Max Middleton, Collin McCracken and Zander Mitten in the 200 Medley Relay and 200 Freestyle Relay. Both relays finished in 12th place. The team finished 22nd overall.