The welcoming back of students and faculty at Epiphany Cathedral Catholic School on Oct. 10, 2022, was the result of the hard work of many. The joy everyone felt to gather for morning prayer was electric.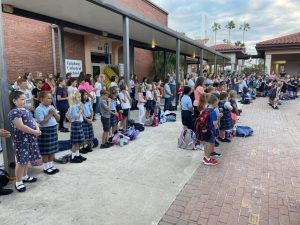 The school was ravaged by Hurricane Ian on Sept. 28 when a large portion of the roof ripped off, allowing water to pour into classrooms. Faculty, families, volunteers and contractors have worked hard since the storm to clean up the mess and ensure the school was safe to open.
Father John Belmonte, SJ, Superintendent of Catholic Education, said the repairs will take time, but a creative use of the available space allowed everyone to return to the classroom, even if it wasn't in the same exact room as before the hurricane.
Msgr. Patrick Dubois, Rector of Epiphany Cathedral, was present for the opening prayer service and offered a special blessing with holy water, just as he did on the first day of school in early August. This time, the blessing included prayers for families struggling to recover from losses caused by Ian, and also to thank the Lord that they were all reunited in praise of God.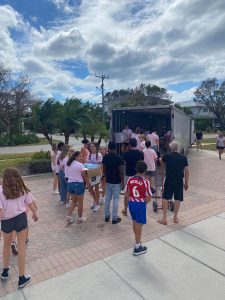 By Oct. 10, all but four of the 15 Diocesan Catholic schools had reopened, with the exceptions being St Charles Borromeo Catholic School in Port Charlotte, St. Andrew Catholic School in Cape Coral, along with St. Francis Xavier Catholic School and Bishop Verot Catholic High School, both in Fort Myers. Each of those schools had some damage and are expected to resume classes by Oct. 18. The delays in reopening were primarily due to a lack of power and reliable drinking water in the impacted areas.
"It was too soon," Father Belmonte said. "The extra time allowed us to work out logistical issues for mitigating and repairing damage while ensuring the faculty, staff and Catholic school families were more secure and prepared to return following the devastation of Hurricane Ian."
The Diocesan schools that were spared the worst of the hurricane quickly rallied to collect needed emergency supplies to deliver to the schools in Lee and Charlotte counties.
St. Ann Catholic School in Naples, where the storm surge stopped short of entering any buildings, reopened on Oct. 10 and students were led in a prayer service by Father William Davis, Oblate of St. Francis de Sales and Pastor at the neighboring Parish. This school suffered severe damage following Hurricane Irma in 2017 and the repairs held as there was only minor damage, even though the area had winds in excess of 100 mph and the storm surge was at least 3-feet deep as it surrounded the school. The school also held a collection drive for needy families led by the Minnie Vinnies, a school service club associated with the St. Vincent de Paul Society of Naples. A concurrent outreach collected $75,000 in gift cards to local stores which were then distributed to families.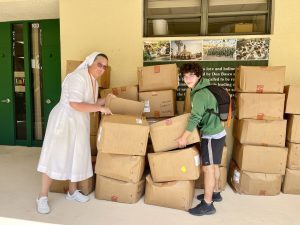 At St. John Neumann Catholic School in Naples, the apparel company Vans, best known for designer sneakers, delivered dozens of boxes of sneakers, t-shirts, and shorts on Oct. 7. Neumann Principal Sister Patricia Roche, Salesian Sister of St. John Boco, knows someone with the company, and gratefully accepted the donation before having students and staff organize the clothing and box it up to be sent to families in need throughout the Diocese.
St. Elizabeth Seton Catholic School, spared damage from Ian but nearly destroyed in Hurricane Irma, also collected items for families in need. The response was overwhelming as more than 300 individual care packages that equated to 10 carloads of food, water, diapers, air mattresses, care packages and more, were distributed to various communities in need.
At St. Catherine Catholic School in Sebring, where damage was minimal, the outreach of support was aimed at neighboring DeSoto and Hardee counties which were devastated by record river flooding. Reopened for classes by Oct. 4, the school and Parish accepted donations of water, blankets, clothing, food, sleeping mats, etc., and then loaded school buses to deliver the items.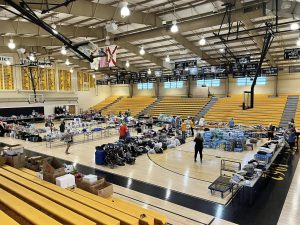 "The Diocesan Catholic school community has rallied together during this time of difficulty for so many," Father Belmonte said. "This has also been seen by the outpouring of support from outside the Diocese, with Catholic schools from all over the country reaching out, offering to send prayers, supplies and financial support. It really is heartwarming to see this, and it is particularly appreciated and welcomed by the Diocesan Catholic school communities where the suffering has been the greatest."
Meanwhile, second graders at St. Martha Catholic School in Sarasota created special "Thank You!" cards to deliver to the men and women who helped to restore power. The school, as well as St. Mary Academy, reopened Oct. 4, and held collection drives which resulted in being able to send several loads of items to Lee County.
To support the recovery effort of Diocesan Catholic Schools please visit www.dovdoe.org/donate. This provides links on ways you can give directly to the Diocesan hurricane relief or to Catholic Charities.