St. Andrew Catholic School was well represented at the 63rd Annual Thomas Alva Edison Kiwanis Regional Science and Engineering Fair and Inventors Fair which was held Jan. 18 at Florida Gulf Coast University in Estero.
The Cape Coral school sent 16 middle school students to the Science and Inventors Fair, and an amazing 11 students were recognized for their exceptional science and invention projects at the awards ceremonies. Three of those students took first place in their divisions. The event is the largest science and technology competition in Southwest Florida where more than 700 students from schools in Lee and Charlotte counties present their inventions and/or science projects.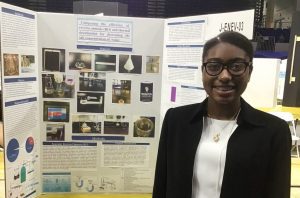 The "STARS" of the evening were sixth grader Christopher Pino and eighth graders Naissa Esperance and Andrew Pino. Christopher was awarded First Place in the Jr. Division for Animal Sciences for his project "Cut the Frag: The Effect of Different Starting Coral Fragment's Weights on Growth Rate." Naissa received First Place in the Jr. Division for Environmental Engineering for her project "Comparing the Efficiency of Reverse Osmosis and Thermal Desalination for Decreasing the Salt Concentration of Water." Andrew was awarded First Place in the Jr. Division for Chemistry for his project "The Power of Algae: The Effects of Different Concentrations of Magnesium Sulfate and Magnesium Chloride on Chlorella vulgaris Growth."
Also recognized were: Zoe Malca (grade 6) Honorable Mention – Jr. Division for Behavioral and Social Sciences; Zachary Engle (grade 7) Third Place – Jr. Division for Physics and Astronomy; Kyle Benson (grade 7) Fourth Place – 7th Grade Inventions; Abigail Cudnik (grade 7) Honorable Mention – Jr. Division for Earth and Environmental Science; Savannah Chase (grade 8) Third Place – Jr. Division for Biomedical and Health Sciences; Declan Derba and Renato Pantoja (grade 8) Honorable Mention – Jr. Division for Engineering; and Marckovsky Ambroise (grade 8) Second Place – Special Transportation Invention.
All three First Place winners are also Grand Award Winners and will present their projects at the prestigious Broadcom MASTERS event and then this spring at the State Science and Engineering Fair in Lakeland.
St. Andrew Catholic School is a STREAM (Science, Technology, Religion, Engineering, Art, Math) certified school and holds the distinction of being the first pilot STREAM school in the Diocese of Venice.
Principal David Nelson congratulated the students on their accomplishments.
"The amount of St. Andrew students who were recognized at the regional science fair is a testament to Mr. James Less and the school's STREAM program," Nelson said. "Mr. Less, along with our faculty and staff connect student learning through a variety of activities which promotes all aspects of STREAM. I am so proud of how our students handled themselves throughout the entire process. Congratulations to all Saint Andrew students, faculty, and staff on a job well done."
For more information about St. Andrew Catholic School, please call 239-772-3922 or visit www.standrewcs.org.