By Beatrice T. Sanford, OFS, Special to the Florida Catholic
The Feast of the Immaculate Conception, Dec. 8, 2020, was a cause for celebration as the St. Clare Secular Franciscan Fraternity welcomed four candidates who made their permanent profession in a socially distanced ballroom on the campus of Ave Maria University in Ave Maria.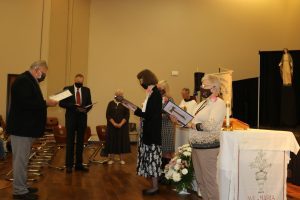 St. Francis of Assisi, who founded the Secular Franciscan Order in the 13th century, was known for his devotion to the Blessed Mother. Father Rick Martignetti, OFM, Ave Maria University Catholic Campus Minister, celebrated Mass which included the Rite of Profession.
The newly professed members of the St. Clare Secular Franciscan Fraternity are Mary Ellen Becker of St. Raphael Parish in Lehigh Acres, David Bowen of St. Peter the Apostle Parish in Naples, and Richard Nozewski and Robert Schoenborn of Ave Maria Parish in Ave Maria.
The St. Clare Secular Franciscan Fraternity is a community of 25 men and women from various parishes in Southwest Florida called by God to follow the Gospel life after the example of St. Francis of Assisi, to share his charism, and to make it present in the world. Members pray daily and gather on the first Sunday of the month in Ave Maria Parish Hall. Secular Franciscans express the teachings of Jesus Christ through their daily lives, both in prayer and in action, going from the Gospel to life and from life to the Gospel.
To become a Secular Franciscan, there is a process that can last between 18 months to almost three years. It begins with orientation to determine the basic disposition to Franciscan Charism and life in fraternity. What follows next is the first phase of initial formation known as Inquiry or discernment where one determines if they truly are being called to this vocation.  Inquirers learn about lay spirituality, the life of St. Francis of Assisi, the history and structure of the Secular Franciscan Order as well as the Rule of the Order written by St. Francis.
If the person is ready to embrace the consecrated life there is a period of Candidacy with focus on the Pauline Rule and Prologue, Sacred Scripture, Franciscan Spirituality, Franciscan Apostolic Life and the Ritual of the Secular Franciscan Order. The Rite of Profession is the final step and lasts a lifetime. As you may surmise, the key word is commitment and guidance by the Holy Spirit.
The hallmarks of the Order's spirituality are simplicity, poverty, humility, a sense of minority, a complete and active abandonment to God, conversion, transformation, and peacemaking.
For more information, contact Carol Bart OFS at cabart51@gmail.com.