Bishop celebrates Mass for Sarasota Catholic school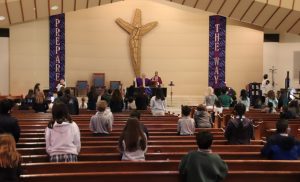 Bishop Frank J. Dewane celebrated Mass on Dec. 10, 2020, Thursday of the Second Week of Advent, for the students at Incarnation Catholic School in Sarasota. Bishop Dewane reminded the students to not only prepare for the coming of the Christ Child at Christmas but for the Second Coming of Christ. Following the Mass, the Bishop spoke to the eighth graders and fielded questions from the group.
Televised Christmas Day Mass for the Homebound
The televised Christmas Day Mass for the Homebound, with Celebrant Bishop Frank J. Dewane, will air for a full hour on Christmas Day. For viewers in the northern portions of the Diocese (DeSoto, Hardee, Highlands, Manatee, and Sarasota counties), the Mass will air at 9:30 a.m. on the CW Network. In the southern portions of the Diocese (Charlotte, Collier, Glades, Hendry, Lee counties), the Mass will air at 8 a.m. on WFTX-TV (FOX-4). You will also be able to find the Christmas Day Mass on the Diocese of Venice website at www.dioceseofvenice.org/tvmass. Please check your cable provider for channel listings. Leaflet missals are available upon request by calling Gail Ardy at 941-486-4714 or by writing: TV Mass, Diocese of Venice, 1000 Pinebrook Road, Venice, FL 34285. For more information email ardy@dioceseofvenice.org.
Catholic Charities Christmas Appeal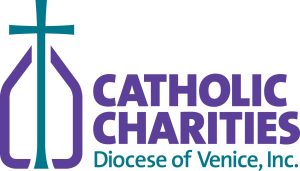 The annual Catholic Charities Christmas Appeal is happening now through January. A donation to the 19th Annual Catholic Charities Christmas Appeal will give those struggling the means to move beyond their battles and strengthen our communities during these times of high unemployment and despair. During this season of sharing, please consider a contribution to Catholic Charities so we can continue to provide help, create hope, and serve all. Thank you for your giving spirit! To donate, please visit www.catholiccharitiesdov.org or mail a donation to Catholic Charities, Diocese of Venice, Inc., 5824 Bee Ridge Road PMB 409, Sarasota, FL 34233-5065.
Annual Mass for Catholic Haitian Community Jan. 1
The annual Mass celebrating the 217th anniversary of the independence of Haiti will take place at 2 p.m., Jan. 1, 2021, the Solemnity of Holy Mary, Mother of God, at St. Leo the Great Parish, 28290 Beaumont Road, Bonita Springs. The Main Celebrant is Bishop Frank J. Dewane. There is ample seating available at the Parish with social distancing and masks required. A drive-thru dinner will follow in lieu of a reception. For more information, please contact Father Fritz Ligondé at 239-210-1018.
Students send get well cards to COVID patients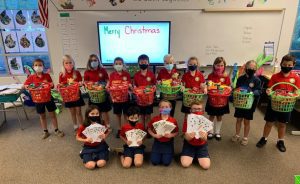 St. Martha Catholic School second-graders in Sarasota made "Get Well Cards" for the patients on the COVID-19 Floor of Sarasota Memorial Hospital, as well as "Thank You Cards" for the staff which were delivered the week of Dec. 7, 2020. The students also collected treats to make Gift Baskets.
Toiletries added to food distribution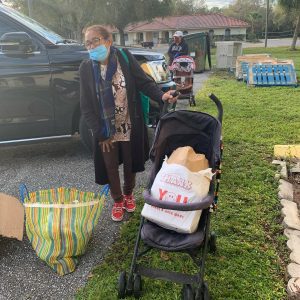 Thanks to a generous donation, toiletries were included in the Dec. 11, 2020, food pantry distribution by Catholic Charities, Diocese of Venice, Inc. in Arcadia. The items allow the recipients to focus on the purchasing of other more urgent needs without having to pay for toiletries and food as they struggle to become more financially stable.
2021 Catechetical Conference Feb. 13
The 2021 Catechetical Conference, "Encountering Christ in the Classroom" will be held Feb. 13, 2021, at Bishop Verot Catholic High School in Fort Myers. The day will begin with Mass celebrated by Bishop Frank J. Dewane. This will be followed by keynote addresses and workshops in English and Spanish. All workshops will be geared around how to engage both catechists and students the lesson about the Faith while having Jesus Christ at the center. Exhibitors will be present, making possible the viewing new and creative ideas on using technologies, resources and teaching techniques. The cost for the day is $25 a person and includes lunch. Registration for this event can be found at https://dioceseofvenice.regfox.com/2021-catechetical-day
Sunday Mass In Spanish available on the radio
St. Jude Parish in Sarasota broadcasts the Holy Mass in Spanish, celebrated by Pastor Father Celestino Gutiérrez, every Sunday at 9 a.m. on radio station 99.1 and at 11 a.m. on 105.3. We thank the sponsors for this Mass and SOLMART Media for their collaboration in this effort.
Misa Dominical En Español
La Iglesia de San Judas en Sarasota transmitirá la Santa Misa en español, oficiada por su Párroco, el Padre Celestino Gutiérrez, todos los domingos a las 9 a.m. por la emisora de radio 99.1 y a las 11 a.m. por la 105.3. Agradecemos a los Patrocinadores para esta Misa y a SOLMART Media por su colaboración en este esfuerzo.
Safe Haven Sunday coming to Diocese
Pornography is one of the leading causes of addictions, abuse, adultery, divorce, and even human trafficking: it is, in short, a pervasive evil inflicting grave wounds on our families. Pornography creates unsafe environments for children and confuses others about attitudes towards sex and marriage. It is a moral issue. For this reason, March 7, 2021, has been designated as Safe Haven Sunday in the Diocese of Venice. This awareness day will give us an opportunity to address the harmfulness of pornography in marriages, families, and culture, while providing helpful resources for all. Detailed information about the implementation of this program will be shared in the coming weeks through your Parishes. If you have any questions, please contact Carrie Harkey, Diocesan Coordinator of Family Life at harkey@dioceseofvenice.org.
Online "Introduction to Catholic Theology" offered by Diocesan Institute
The Institute for Catholic Studies and Formation is offering a 16-week online course starting Jan. 11, 2021, that introduces students to the principles, practices, and sources of Catholic Theology. The course "What is Catholic Theology? (Ecclesial Nature and Mission of Theology)" counts as a pre-requisite for those beginning the online MA in Theology and Christian Ministry at Franciscan University of Steubenville. Anyone interested in a graduate-level introduction to Catholic Theology is welcomed to access the course for half-price. The course is taught by Dr. John Gresham, Executive Director of the Institute. For cost and other information and to register for the course, visit https://institute-dov.org/ and click on the link to COURSES. For more information, contact Dr. Gresham at 941-766-7334 or john.gresham@institute-dov.org.
Anniversary Masses coming soon
All couples celebrating 25, 30, 35, 40, 45, 50, or more than 50 years of marriage are invited by Bishop Frank J. Dewane to an Anniversary Mass in their honor to be celebrated in two locations. This year, considering the ongoing COVID-19 Pandemic, each location will have two Masses to allow for appropriate social distancing. The Masses are 10 a.m. and noon on Feb. 6, 2021, Epiphany Cathedral, 350 Tampa Ave. W., and 10 a.m. and noon, March 6, 2021, St. Leo the Great Parish, 28290 Beaumont Road, Bonita Springs. All registration is being handled through your local Parish. Please reserve your seats at least one week before the Mass you wish to attend.