The St. Vincent De Paul Society in Naples is much more than its thrift stores.
The SVdP two stores in Collier County provide an important source of income for the organization's greater purpose – helping neighbors in need.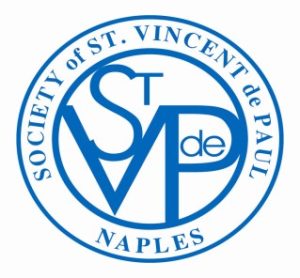 It was on Sept. 10, 2017, when Hurricane Irma roared ashore near Marco Island and spread a swath of destruction through Naples, impacting thousands. That recovery still continues as the misery for some has been compounded by a global pandemic, a housing crisis, and rampant inflation.
At no time in its 50-plus years of existence has the St. Vincent De Paul Society Naples District Council had to help people during such a continued time of misery as families and individuals face each day living on the knifes-edge between poverty and homelessness.
"We have seen people impacted by a bit of everything these past few years," said Kimberly Schul, Executive Director of the St. Vincent De Paul Society Naples District Council. "Even with everything, our focus has been unchanged."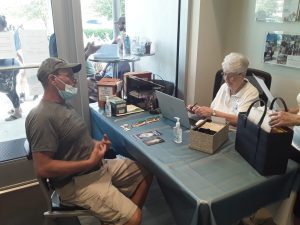 Working at multiple locations across the county, SVdP Naples, and its dedicated volunteers, provide help for working families and individuals facing life's unexpected challenges. This includes offering nutritious food and a friendly visit with homebound seniors and disabled neighbors, and critical advice and counsel for Collier County residents, young and old.
Demand at the food pantry has remained high throughout the summer months. One woman who recently sought food explained her needs: "The food I receive is for my children. Times are hard right now. I work two jobs and can barely cover my living expenses. Rent went way up, gas is high, even basic food is more expensive. In the past two years, the Society has been there and helped me keep my head above water."
To better meet the need of the community, the SVdP Naples District Council provides caseworkers who learn not just about the need of a family or individual, but they dig deeper. The centerpiece of this effort is the home visit.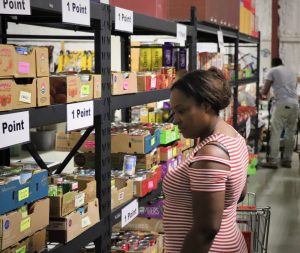 Schul explained that the home visit is always conducted by a team of trained Vincentians, and this gives caseworkers a more effective way to support and build stronger relationships with neighbors in need. This often results in better outcomes that not only relieve poverty but also bring emotional assistance to all concerned.
Parishes in Collier County (St. Agnes, St. Ann, St. Elizabeth Seton, St. Finbarr, St. John the Evangelist, San Marco, St. Peter the Apostle and St. William) all have a St. Vincent de Paul Conference, a Parish-based volunteer group.
Schul explained that by working closely with the Parish, the individual Conferences operate cooperatively to form the Council. The presidents of the Conferences comprise the Council Board of Directors, which governs the operation of the Naples Society. When the Society can not help, community partners are contacted and no one is left without help.
Each of the Conferences works its corresponding Parish to raise and disburse funds at its own discretion. Conferences raise funds through donations and fundraising projects. Although providing volunteers to help staff at the SVdP two thrift stores, the responsibility of operating the thrift stores is that of the Council, and as such, any monies generated also become used to help the less fortunate at the discretion of the Council. Parishes also conduct regular food drives to help meet the Council demand.
One of the newest outreach efforts began in June 2021, when St. Vincent de Paul Society's St. William and St. Peter Conferences started the Homeless Backpack Program to provide food for the homeless in the East Naples area. Since that time, the program has expanded to provide much more than food. Available goods include toiletries, clothing, camping gear, home-cooked meals and bicycles. Community support systems are made available as well, including housing, food stamps, identification, medical care, financial assistance, counseling, and substance abuse treatment.
The Homeless Backpack Program was recently folded under the umbrella of SVdP Naples and retitled HOMe (Homeless Outreach Ministry etc.). This newly imagined program is designed to mitigate the suffering that the "unhoused" experience every day. Each Tuesday from 10 a.m. to 4 p.m., Vincentians open the doors of the HOMe program, located at 3174 Tamiami Trail E., to approximately 40 neighbors and provide meaningful, tangible, and spiritual assistance. The program is done in partnership with Catholic Charities, Diocese of Venice, Inc., in Collier County as well as the Naples Homeless Coalition.
"Everyone involved in this outreach sees that their helping hands make a difference for each homeless neighbor, one neighbor at a time," Schul said. "In the Catholic tradition, HOMe is acting as the helping hands of our dear Lord."
Other important programs include the Choice Food Pantry, which operates 9 a.m. to 1 p.m., Monday, Wednesday and Friday, and assists nearly 900 each month. The Meals on Wheels program delivers food to 140 individuals, and approximately 160 families/individuals receive some sort of financial support each month.
"We rely on the support of donations and volunteers from the community to help us meet our needs," Schul said. "We work to ensure that we stretch our food and financial resources to meet all of the demand. Sometimes we will have fewer options in the food pantry or maybe we cannot always cover all emergency expenses, but we will always provide something to help those in need. That is what we are here to do – every day, all year long."
Schul said a critical issue is that the pandemic impacted the number of volunteers who help in all aspects of the Society's operations.
"There is an acute need now for volunteers," Schul said. "We have a place for everyone who wants to offer their time… there are many volunteer opportunities available which people can do based on the gifts the Lord has provided. If you want to help, we have a place for you!"
The Society of St. Vincent de Paul is a network of friends, inspired by Gospel values, growing in holiness and building a more just world through personal relationships with and service to people in need. The core values of the Society are: Spirituality, Friendship, and Service to the Poor.
If you are interested in supporting or volunteering with the Society of St. Vincent de Paul in Naples, please call 239-775-2907, or visit https://svdpnaples.org/. Or you can mail donations to Society of St. Vincent De Paul, Naples District Council, 4451 Mercantile Ave., Naples, FL 34104.