Coach Mike Gill has been a presence on the campus of Bishop Verot Catholic High School in Fort Myers for more than five decades, first as a student and then as a coach and a teacher for the past 52 years.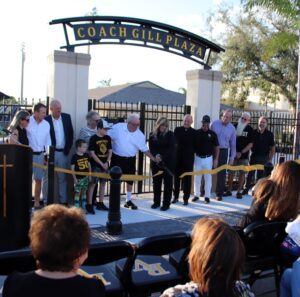 To honor his legacy, the newly constructed "Coach Gill Plaza" was dedicated to honor a man who has had a lasting impact on the Bishop Verot community. The plaza, complete with a cross, fencing, new pavers, and dedicated entrances, serves as the newly renovated entrance to the Viking Stadium which serves as home to numerous Verot sports teams, including football, track and others.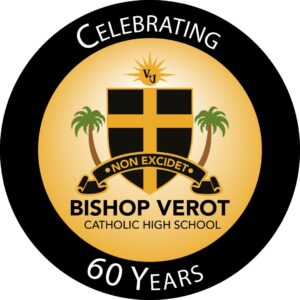 More than 150 family members, friends, Viking alumni, faculty, staff and current students were present for the dedication and ribbon-cutting ceremony on Oct. 27, 2023, prior to the final regular season home game. Representing the Diocese was Jesuit Father John Belmonte, Superintendent of Catholic Education.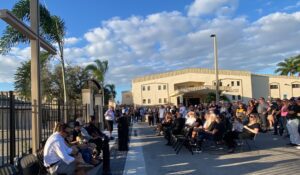 Verot Principal Suzie O'Grady lauded Gill for making an indelible mark on the Verot community, as mentor and friend to students, faculty, and staff for many decades. O'Grady also thanked the many supporters of the project and noted how appropriate it was to honor a man who means so much to the greater Verot community, with a legacy that goes beyond any words of praise.
Gill said he was privileged and humbled by the dedication of the plaza in his name, saying that in the crowd present to honor him were people more worthy of such an honor.
"I don't deserve this," Gill said. "I don't need my name up there. Bishop Verot has given me more in my tenure than I could ever repay. It is the people that make up the Viking nation; that's what is impressive, all of you."