One! Two! Three! Go!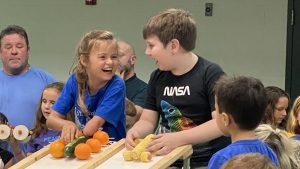 And down the ramp sped two veggie cars in a heated battle for bragging rights in a cafeteria filled with cheering students and parents at St. Andrew Catholic School in Cape Coral.
This was the scene during the annual St. Andrew Catholic School Veggie Races on Sept. 22, 2022, in Cape Coral. The races culminated a STREAM (Science, Technology, Religion, Engineering, Arts and Math) night, where students were able to show off their science and technology skills at different stations throughout the Cape Coral school.
St. Andrew Principal David Nelson said the STREAM night and Veggie Races used to be an end of the year tradition but was moved to the fall to allow parents an up-close look at what their children are learning each day at school.
"We are blessed to have many new families this year, and they are still learning about what we do here at St. Andrew," Nelson said. "This is a great chance to show off our STREAM curriculum to the parents (pre-K through middle school), and what these students have been learning and doing the first few weeks of school."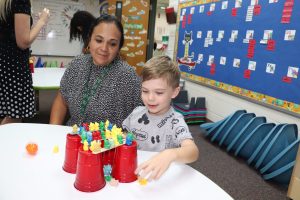 One parent proudly carried a STREAM creation from the evening, along with the remains of a veggie car that went of course during a race. "This was so much fun," she said. "I never realized how involved the STREAM program was. This is perfect for my son as he is always talking nonstop about the exciting things he learns at school each day.
For the Veggie Races, the cars were made of a variety of veggie and fruit combinations. For example, one had squash as the main body with tomato and cucumber wheels all precariously joined together by toothpicks or skewers.
Crowded into the school cafeteria, racers were divided into three divisions: Pre-K to second grade; third through fifth grade; and sixth through eighth grade. The top competitors received a prize.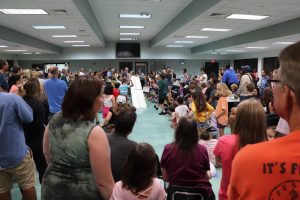 As each pair of competitors awaited the starters countdown, vehicles were placed at the top of a ramp and the "drivers" hoped their veggie creation would stay together and go the farthest distance. Cheers of excitement in the cafeteria would reach a crescendo. Predictably, many of the creations did not get very far with pieces of vegetable and fruit careening into the spectators. While this caused some of the competitors to be devastated, parents and friends were quick to offer support and reassurances that next time, their car would make it down the ramp in one piece.
The STREAM demonstrations were located in different classrooms. In one room, children used Lego bricks to build a ship that was then sent down a zipline. In another classroom, there were chemistry experiments which included the mixing of different chemicals to create weird and fun results. There was also a room full of robots where one could program a robot to shoot a basket into a hoop, or guide a robot to move a small object in competition with other robots.
The was also a room full of displays showing the "Eucharistic Miracles Exhibition." The exhibition includes a visual story of different Eucharistic Miracles from across the globe, which was created by Blessed Carlos Acutis who researched and catalogued the miracles onto a website before he died from leukemia at the age of 15.
Children went from room to room seeking a new adventure with parents in tow. In some cases, it was difficult to tell who was having more fun, parent or student.
At the end of the evening, the students and parents left with big smiles and a new excitement about St. Andrew Catholic School.
To learn more about St. Andrew Catholic School, please visit www.standrewcs.org