A celebratory shower of confetti, streamers and party poppers, hugs from Marty the Marauder, and cheers from the staff of the Bradenton Marauders greeted Connor Longo as he entered LECOM Park in Bradenton on April 23, 2023.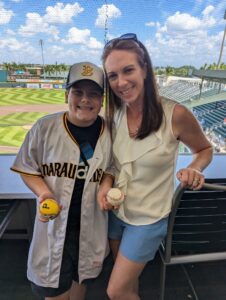 The sixth grader from St. Joseph Catholic School was taking part in the school's Mother-Son Baseball Game, when he was welcomed as the one millionth fan to walk through the gates of the park since the team began play in 2010.
"I love Marauders baseball," Connor said. "I'm so excited that I'm the one millionth fan!"
Connor received season tickets for life, and a Marauders jersey; he threw out a ceremonial first pitch, and was seated with his mother in a special viewers box for the game.
"We are thrilled to celebrate this exciting milestone," Craig Warzecha, general manager, said. "This is a testament to the continued support of our fan base and community. We look forward to providing memorable experiences for our guests for many years to come."
Valerie Longo, Connor's mother stated, "This will definitely be a hard mother-son event to try to top in the future!"
The Bradenton Herald reported on the moment, with Valerie Longo explaining how the pair were late for the game after making a last-minute stop.
"So Connor is walking in front of me and – WHOA!!!" as she described the moment the confetti started flying.
"It was pretty crazy!" Connor said. "Took me awhile to realize what was actually happening."
Valerie Longo said "They treated us like royalty. Connor kept saying, 'This is the best day ever!'"