Life on Gasparilla Island and the island community of Boca Grande appears to be back to normal seven months after Hurricane Ian. Businesses are open, streets are bustling with visitors and the recent snowbird season was robust.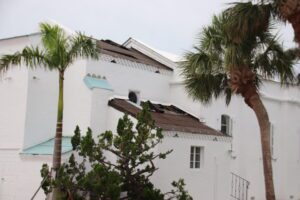 But a closer look and it becomes clear that much needs to be done as this island community works to recover from the storm that lashed the area with winds estimated at 155 mph. Tarps still cover many roofs, exposed siding is commonplace, and there are signs everywhere marking where contractors are working on the interiors of homes.
Father Jerome Carosella, Pastor of Our Lady of Mercy Parish, explained how the aftermath of Ian still affects everyday life on Boca Grande.
"Even when people don't talk about Ian directly, you know that each person is fighting with their insurance company or awaiting work to be completed. They are frustrated and want work done but people also know everyone else is going through the same thing, so it has united us in a strange way," Father Carosella said. "This shared experience has brought about so many good people. Strangers helping strangers. Neighbors getting to know their neighbors. We all realize that whatever damage we have, it could have been so much worse."
Islands immediately to the south of Gasparilla Island, such as Captiva, Sanibel and Fort Myers Beach, were inundated by up to 15 feet of storm surge, causing catastrophic damage.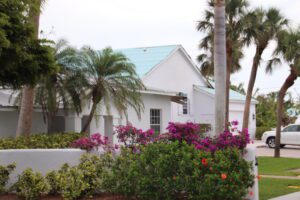 "Make no mistake, parts of Boca Grande were badly damaged, so much so that some people are never returning and deciding to sell. But about 80% or more are determined to stay and rebuild. Our Lady of Mercy is doing that rebuilding alongside everyone else," Father Carosella added.
The Parish had roof damage to the church, rectory, and pre-school. Each had water intrusion from the heavy rain that came with Ian. The pre-school also had water flow into the building when the nearby street flooded. The new parish hall, which was nearly completed by the time Ian struck on Sept. 28, 2022, had only superficial damage.
"The pre-school roof was hit by the best mango tree on the island, and flood water also went right through the front door," Father Carosella explained about the school which has 30 children and is run by Catholic Charities, Diocese of Venice, Inc., while the Parish covers all costs. "We focused on getting the interior fixed so we could be here for the children and their families. And three months later we reopened."
The corner of the roof that was hit by the mango tree is still in need of repairs, as are the church and rectory roofs. Each was covered with a protective padding that is water-resistant, but regular weather is stressing the temporary fixes.
"We had a big windstorm last night and it pulled some of the covering off the church roof," Father Carosella said on April 28, 2023. "But we are expecting the roofs to be repaired sometime in June. That is great considering where we were right after Ian."
Delays in repairs are being caused by a lack of material and contractors.
Unlike during Hurricane Charley in 2004, Father Carosella evacuated ahead of Ian when friends in the fire department and Sheriff's Office told him they too were leaving the barrier island.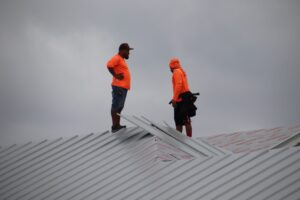 So, Father put the storm shutters in place and took the Blessed Sacrament, the consecrated Communion hosts, to St. Francis of Assisi Parish in Grove City for safekeeping. Then he went to stay with parishioner-friends in South Gulf Cove on the mainland in Charlotte County.
Father Carosella returned to Boca Grande on Sept. 30, two days after the storm struck, having to wait until the waters on the island receded enough to allow passage of trucks.
What Father found was heartbreaking but not nearly as bad as he had feared. Other nearby churches, businesses and homes suffered much worse. Within a block of Our Lady of Mercy a cellular tower collapsed and cut a bakery in half, while a Baptist church had its roof, steeple and a wall blown out, and nearly every home in view had serious damage. Debris was everywhere and although he was not sure where to begin the cleanup, a guardian angel was soon coming to the rescue.
"A guy with a big truck and trailer pulled up and asked, 'Can I help you?'" Father Carosella said he was amazed that a stranger would offer to help, but quickly accepted. "Gary Chelli is from St. Petersburg and had visited Boca Grande before, but I didn't know him. He said he came down because he wanted to help. He had asked someone at the fire department where help was needed and they asked if he was Catholic and directed him my way. And Gary kept coming back for days with tarps, gas and water while helping to clear debris and make temporary repairs. He was a big help and we have become good friends."
The Holy Sacrifice of the Mass was celebrated the first day back on the island with just a few people, and repair work at the parish has been slow, but steady as each milestone is celebrated.
"We are getting there," Father said. "They recently finished the work on the front rooms of the rectory and that is great. They had to replace the floors and walls and are now putting the finishing touches on the paint. You can't even tell there was any damage."
With that work behind, Father Carosella said only a few items need to be taken care of, such as repairing and reinstalling the old-style wood shutters, and of course the installation of the new roofs.
"We have come a long way since Ian. A big turning point for the community was the Christmas tree lighting ceremony in the town square. Everyone gathered for this quiet moment in between all of the reconstruction to thank the Lord for what we have. We are all so blessed."
If you would like to support the Diocese of Venice in its recovery from Hurricane Ian, please visit www.dioceseofvenice.org/hurricaneian.