During their Lenten Journey the students who attend the Catholic Schools of the Diocese of Venice are being reminded to take seriously the call for prayer, fasting and almsgiving while not forgetting the ashes they received on Ash Wednesday.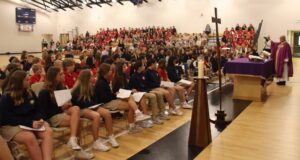 Bishop Frank J. Dewane celebrated the first in a series of Masses for students in all Diocesan Catholic schools on March 2, 2023, for St. Martha Catholic School and St. Mary Academy in Sarasota. This was followed on March 3, with a Mass for students at St. Charles Borromeo Catholic School in Port Charlotte. Additional Masses are scheduled throughout March.
Bishop Dewane said the ashes the students received on Ash Wednesday may have faded or been washed away but the mark is still there.
"It is a reminder of the journey we are all on during this Lenten Season, and how we are to live a righteous life – a good life – according to the way the Lord taught," the Bishop said. "It is about how do you treat others, day in and day out. Do it with a goodness, righteousness and with mercy in your hearts. Know that the way you were signed with a cross in ashes must stay with you throughout this Lenten Season. This is a sign of goodness grown out the Lord's sacrifice."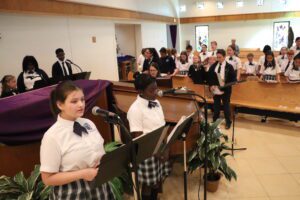 In addition, Bishop Dewane reminded the students how the three pillars of Lent – prayer, fasting and almsgiving – are not exclusive for parents and other adults to act upon and consider. These pillars are a guidepost for everyone to follow in his or her own way, from the youngest child to the oldest grandparent.
"Prayer, for example, should not be confined to school. Find time at home, before meals, or at bedtime, or when you get up," the Bishop continued. "In that way you are growing in your relationship with the Lord."
While fasting for many might mean going without food, there are plenty of options for younger students to make a true sacrifice for God. Giving up a favorite television show, video game, a favorite candy, or even all candy, is taking a step in the right direction, but it must be a true sacrifice to achieve a greater closeness with Christ.
Almsgiving is traditionally associated with giving money, but Bishop Dewane explained that the students can use this discipline as an opportunity to do good things for others.
"Helping or doing for others – be it a brother or sister, a parent, or a friend – being a good person is about giving a part of oneself for the other, doing what is right in the eyes of Jesus."
The Lenten Season, Bishop Dewane said, is about responding to the call of Christ with goodness, righteousness, and justice in our hearts.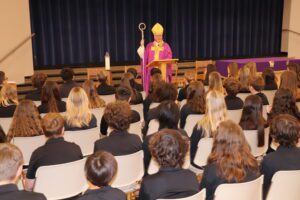 Following the Masses, the Bishop spoke with the eighth graders during which he inquired how they were progressing in school and encouraged them to remain the leaders of their respective school and to seriously consider attending a Diocesan Catholic High School next year, with many saying they would.
The eighth graders were then allowed to question the Bishop on any topic. Some questions focused on the unique clothing he wears during Mass, while others centered on learning about his personal spiritual journey to the priesthood and ultimately a Bishop. Bishop Dewane explained how his first internal call to the priesthood started about when he was in eighth grade. From that point he put off that call to focus on school, university and then work in the business world. Finally, he decided he needed to follow the call of the Lord and has never looked back. "It felt right."