Get a head start on an online advanced degree in Theology and Christian Ministry at Franciscan University of Steubenville by taking a prerequisite course online through the Diocese of Venice Institute for Catholic Studies and Formation for a reduced price.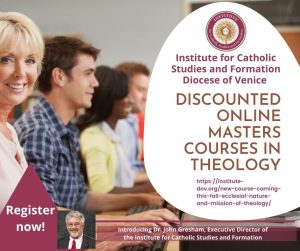 The course, Ecclesial Nature and Mission of Theology, is a required prerequisite for those seeking an online MA in Theology and Christian Ministry through Franciscan University of Steubenville and provides a basic introduction to the study of Catholic theology. The course begins Sept. 7, 2020 and runs for 15 weeks taught online. Students will complete weekly assignments and use online discussion boards and email to interact with the instructor and fellow students at the times most convenient for them.
With guidance from key magisterial documents, you will find answers to these and other questions: What is Theology? What makes Theology "Catholic"? Is Theology a "science"? What is the role of prayer and the spiritual life in Theology? What are the sources of Catholic Theology? What is the theologian's relationship to the Church? This course provides aspiring theologians and students of Theology with basic principles they need to begin theological study.
The course is taught by Dr. John Gresham, newly appointed Executive Director of the Institute. Dr. Gresham brings more than 20 years of experience teaching at Franciscan University of Steubenville, Kenrick-Glennon Seminary in St. Louis, and Sacred Heart Major Seminary in Detroit. He is an experienced and expert online instructor who has taught other faculty best practices in online pedagogy. His publications include Jesus 101: God and Man, Holy Spirit 101: Present Among Us and Wonder and the Prayerful Study of Theology.
"As someone who taught for Franciscan University of Steubenville in the past, I know their program to be intellectually enriching and spiritually transforming," said Dr. Gresham. "Thus, I am very happy that we have this partnership with them where any Florida student can take courses for the online MA in Catholic Theology and Ministry or the online MA in Catechetics and Evangelism, with a discount of one-third off online tuition."
To help students get started in this program the Institute is offering one of the prerequisite courses at a two-thirds discount, Gresham continued.
"This course will launch students into the study of theology that is fully Catholic," he added. "These courses not only equip students to better serve their Parishes, they draw students into a deeper knowledge of the Lord. The online format makes it easy to fit this schedule into a student's already busy life."
This background course, with more coming in the future, is made possible through a special agreement between the Diocesan Institute for Catholic Studies and Formation, and Franciscan University of Steubenville. For those not interested in formal study, or graduate degree, but looking for a thorough graduate level introduction on "How to do Catholic Theology" the class can be audited.
Learn more about the course by visiting https://institute-dov.org/new-course-coming-this-fall-ecclesial-nature-and-mission-of-theology/, or contact Dr. Gresham at 941-766-7334 or john.gresham@institute-dov.org.