Fort Myers Rabbi given Papal Knighthood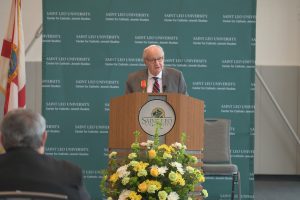 Rabbi A. James Rudin, co-founder of the St. Leo University's Center for Catholic-Jewish Studies, became only the third American rabbi in history to be honored with the Papal Knighthood of the Order of St. Gregory for his work in interfaith relations at St. Leo University on Nov. 20, 2022. Rabbi Rudin, who is from Fort Myers, received the medal of the Order of St. Gregory from Auxiliary Bishop Mark O'Connell, of the Archdiocese of Boston. The investiture ceremony was conducted on behalf of Pope Francis in recognition of Rudin's decades of work in building positive Catholic-Jewish relations throughout the world, fostering interreligious dialogue and understanding. Rabbi Rudin has spoken several times at interreligious gatherings within the Diocese of Venice, including the annual Yom HaShoah commemoration in Venice, as well as the Kristallnacht commemoration in Naples. Bishop Frank J. Dewane was among the honored guests for the investiture. Cardinal Sean Patrick O'Malley of the Archdiocese of Boston, originally was to conduct the ceremony on behalf of Pope Francis, but was unable to attend. The Center for Catholic-Jewish Studies was co-founded by Bishop John J. Nevins, founding Bishop of the Diocese of Venice.
"Blessings Bags" for Our Mother's House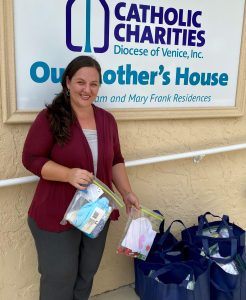 Girl Scout Troop 71404, which is located in North Royalton, Ohio, and is composed of 16 kindergarten girls who recently had a lesson on hurricanes, made "Blessings Bags" for moms and kids in the Diocese of Venice after hearing about Hurricane Ian.  The girls made 46 bags including 13 bags for moms with personal hygiene items, six bags for babies including items such as pacifiers, rattles, and hooded bath towels, and 27 bags for children, which included toys, writing pads, and crayons. The "Blessings Bags" were distributed to moms, babies and kids at Our Mother's House in Venice on Nov. 17, 2022. The Catholic Charities programs provides residential support for new mothers who might otherwise be homeless. Upon receiving the "Blessing bags," Shannon Hoyt, Our Mother's House Program Manager said, "What an amazing, thoughtful thing for them to do! Thank you so much!"
Giving Tuesday, Nov. 29
The Tuesday after Thanksgiving (Nov. 29, 2022) has been traditionally recognized as Giving Tuesday, when people switch from their frenetic Christmas shopping to give back to local charities. Catholic Charities, Diocese of Venice, Inc. (www.catholiccharitiesdov.org), as well as each of the 15 Diocesan Catholic schools (https://dioceseofvenice.org/find-a-school/) are participating in this Giving Tuesday. Many of these organizations have challenges which can multiply your donation and better benefit a school or program. Please consider giving on Giving Tuesday.
Parish celebrates cultural diversity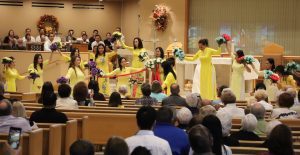 St. John XXIII Parish in Fort Myers celebrated a multicultural Mass on Nov. 20, 2022, the Solemnity of Our Lord, Jesus Christ, King of the Universe. Prior to the Mass, women of the Vietnamese Catholic community performed a ceremonial dance in honor of Christ the King. The Mass included readings in Spanish, Filipino, and English, and music from each of the cultures. This Mass was originally scheduled for early October but was delayed due to the destruction caused to the Fort Myers area during Hurricane Ian. The celebration was one way to mark the ongoing recovery as well the diversity and unity of the Universal Church.
Students make blankets for the homeless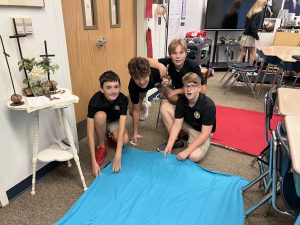 As part of a Reverse Advent Calendar Project, eighth graders at St. Martha Catholic spent the week before their Thanksgiving break making blankets for the homeless. A special thank you to the local JoAnn Fabric stores for making the fabric for the blankets available.
Science, art and food enhance classroom lesson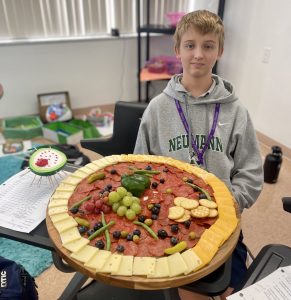 As part of a biology class at St. John Neumann Catholic High School in Naples on Nov. 16, 2022, students created a 3-D representative of a eukaryotic and prokaryotic cell, with a twist. The goal of the project was to develop and use the model to describe the function of a cell as a whole and showed ways that parts of cells contribute to the function. Then they ate the cells which were created out of a variety of food. This unique project was developed by teacher Elaina Gianello who used various aspects of the STREAM (science, technology, religion, engineering, art, and math) curriculum to make the lesson more engaging for the students.
Safety patrol recognized for hard work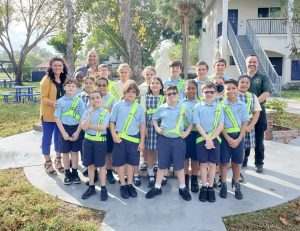 The Safety Patrol team at St. Joseph Catholic School in Bradenton received a surprise visit on Nov. 16, 2022, from deputies from the Manatee County Sheriff's Office. Each Safety Patrol member was presented with a Junior Deputy Badge and AAA Certificate. A Sheriff's representative spoke to the Safety Patrol member to recognize the hard work and commitment these fourth-grade students have put into their positions.
Students make prayer ropes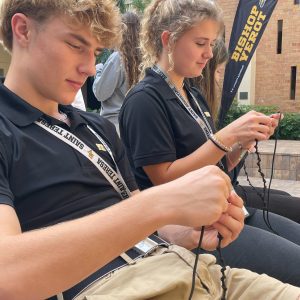 Bishop Verot Catholic High School theology students in Fort Myers recently learned about prayer ropes and made them during an outdoor lesson on Nov. 15, 2022. These ropes are typically made with intricate knots, 33 of them to be specific – one for each year of Jesus' life. A prayer rope is a loop made up of complex woven knots formed in a cross pattern, usually out of wool or silk. The students learned a little more about this tradition and got to enjoy some time outside of the classroom in the process during their theology class. Most commonly part of the practice of Eastern Orthodox monks and nuns, the prayer ropes are used to count the number of times one has prayed to Jesus.