Dressed in their holiday best, the Polish Catholic community of Epiphany Cathedral in Venice hosted its annual Christmas Luncheon on Dec. 19, 2021.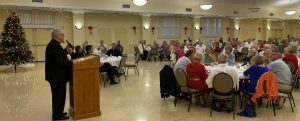 The luncheon reflected what is a traditional Christmas Eve celebration in Poland, everyone joyfully sang Christmas Carols in Polish followed by a traditional meals and sweet desserts.
Father Sebastian Szczawinski, Administrator at Our Lady of the Angels Parish in Lakewood Ranch, offered the opening prayer and welcoming. Father Leszek Trojanowski, Parochial Vicar at San Pedro Parish in North Port, offered the blessing of the meal. Fathers Szczawinski and Trojanowski share the duties of celebrating Mass and caring for the spiritual needs of the Polish Catholic Faithful.
Bishop Frank J. Dewane was also present for the luncheon and expressed his gratitude to the thriving Polish Catholic community for their continued presence in the Diocese of Venice and unfailing devotion to the Lord.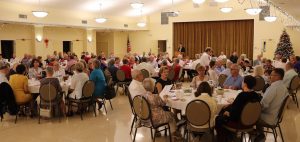 Prior to the meal being served, there was a traditional breaking and sharing of the oplatek (Christmas wafer). The oplatek is a rectangular and paper-thin wafer, made of flour and water of consistency similar to a communion host that is stamped with a Christmas scene. This is meant to remind families of the Eucharistic at Mass and makes a stronger connection between Christmas and the gift of the Eucharist. This bread is not consecrated but blessed by the priest as a way to extend the fruits of the Mass into the home.
The tradition dates back centuries and calls for the eldest member of the family – or in the case of the luncheon, the table – to break a piece off of it, giving it to a spouse or dear friend and eventually distributing it to the rest of the people. Each person then offers a piece to everyone else, from the oldest to the youngest, generally stating in some way how they care about that individual. The purpose of this act is to express unconditional love and forgiveness to each member of his or her family. Among so many friends, the ceremony brought many smiles and hugs.
The luncheon concluded with the singing of Silent Night, the last carol traditionally sung by families on Christmas Eve and representing that everyone is prepared spiritually for the birth of Our Savior, Jesus Christ, on Christmas Day.