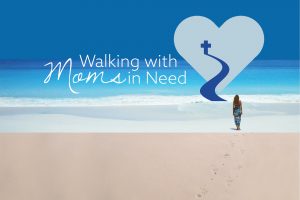 List of pregnancy help centers in the Diocese of Venice:
List of residential facilities in the Diocese of Venice:
Material Needs: Venice Area Pregnancy Care Center – 941-485-1776 – vapcc.org
Volunteer to help moms and their babies
Our Mother's House of Catholic Charities, Diocese of Venice, Inc., is looking for volunteers to assist in helping moms and their babies in Venice. Our Mother's House has provided transitional housing to homeless mothers and their children since 1987. The program's mission is to offer single mothers and their preschool-age children a safe and secure environment to achieve increased self-sufficiency through education, vocational training, and personal growth. Volunteers are needed for assistance with childcare, maintenance, fundraising, and administration. To inquire about volunteering, please call 941-485-6264 or email Joyce Scott at joyce.scott@catholiccharitiesdv.org.
Help pregnant moms in need
If you would like to help pregnant women in need financially, consider giving to the Pennies for Babies Fund. Send checks (not cash) to Catholic Charities Pennies for Babies Fund, 1000 Pinebrook Road, Venice, FL 34285. All donations go directly to rent, utilities and special needs of pregnant moms who choose to parent their child.
Adoption services available
Catholic Charities Adoption Services is a state-wide agency that provides counseling to birth parents, and provisions or resources to meet the needs of birth parents considering adoption planning. If you or a loved one would like to learn more, please call Joan Pierse at 941-355-4680.
Support after abortion – Project Rachel outreach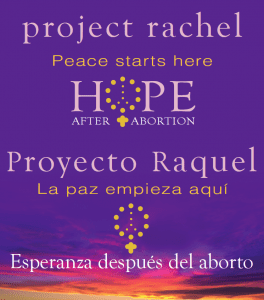 Most women who choose abortion eventually realize that they made the wrong choice and face a lifetime of regret. Even if they confess this sin to a priest, they often find it difficult to accept God's forgiveness and forgive themselves. They will often confess the same sin over and over. Project Rachel is the Catholic Church's program to help women and men come to terms with an abortion decision and find the hope and healing they need. Watch for more on post-abortion healing in the next edition of The Florida Catholic. For confidential help, call 941-412-5860 or email project.rachel@dioceseofvenice.org.
Men's Support after Abortion Program
Men, you are not alone.  While 1 out of 4 women will have an abortion by age 45, men are involved too. According to a national survey, 71% of men said they had an adverse effect after abortion. If you are a man affected by an abortion decision, you are invited to participate in a confidential and free healing series for men.  It will be led by Fr. Mark Harris, St John the Evangelist Catholic Church in Naples, and Nathan Misirian, Support After Abortion.  To learn more about the program, when it will be scheduled or to register for the virtual sessions, call 941-412-5860 or email project.rachel@dioceseofvenice.org.