The Solemnity of the Immaculate Conception of the Blessed Virgin Mary, Thursday, December 8, 2022, is the patronal feast day of the United States, and was celebrated throughout the Diocese of Venice.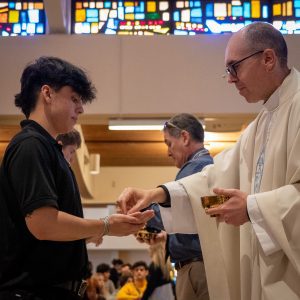 Father David Portorreal celebrated Mass for the students at Bishop Verot Catholic High School in Fort Myers. Part of his message was a gentle reminder that the Solemnity celebrates the Immaculate Conception of Mary in her mother, St. Anne. The Immaculate Conception does not refer to the original conception and birth of Christ, as is often thought, but rather to the conception of the Blessed Virgin Mary, who was conceived without inheriting original sin.
Part of the confusion comes from the Gospel reading of the day, which is from Luke and recounts the Annunciation (March 25), when the Archangel Gabriel appeared before the Virgin Mary and told her she was carrying the Child Jesus.
Pope Francis publicly visited a statue dedicated to the Immaculate Conception near Rome's Piazza di Spagna, a tradition of Popes since 1953, which was preempted the past two years because of the global pandemic.
"You, from heaven where God has received you, see the things of Earth far better than we do; but as Mother you listen to our invocations to present them to your Son, to his heart full of mercy," Pope Francis prayed Dec. 8.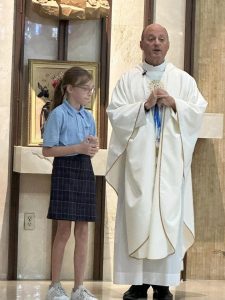 The Holy Father invited the faithful to entrust themselves to Our Lady. He reminded Catholics that "Mary, the only human creature without sin in history, is with us in the battle, she is our sister and above all Mother."
Diocesan Superintendent of Catholic Education, Father John Belmonte, SJ, celebrated the Solemnity Mass for students at St. Francis Xavier Catholic School in Fort Myers.
Father Belmonte brought roses for our Blessed Mother and presented them with help from one of the students. His homily included 'show and tell' with a life vest representing how to save your body from drowning as a symbol of how our Faith is a life vest for our soul.