Sarasota Women's Club grants awards
The Women's Club of St. Thomas More Parish in Sarasota has concluded another successful fundraising season.  The Club's Board gathered recently and presented $5,000 to Pastor, Father Gordon Zanetti; $1,500 to Awareness Manager, Brenda McGowan, of Selah Freedom; and $1,500 to Director of Development, Mary Ellen Mancini, of SPARCC (Safe Place & Rape Crisis Center).  The Women's Club also supports the efforts of Resurrection House and Remnant Church/Café of Sarasota.  If you are interested in the St. Thomas More Women's Club, please visit www.stthomasmoresrq.org/women-s-club or call 941-923-1691.
First Friday Prayer Intention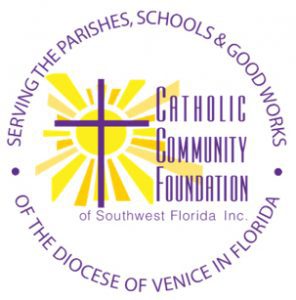 The Catholic Community Foundation of Southwest Florida Inc. invites you to join them, Friday, July 1, 2022, for a prayer session led by Bishop Frank J. Dewane on https://www.facebook.com/ccfdov for all of the prayer intentions that were submitted for the First Friday Prayer Intentions. Everyone is encouraged to submit their prayer intentions throughout the month of July and all upcoming months in the comment section of the video post on Facebook. The Foundation will also post the video at www.ccfdioceseofvenice.org. If you would like to submit a private prayer via email, please send it to CCF@dioceseofvenice.org. To learn more about the First Friday Prayer Intentions with Bishop Dewane you can visit our website at https://ccfdioceseofvenice.org/first-friday-prayer-intentions/
Independence Day Bike and Golf Cart Parade
The Knights of Columbus Ave Maria Assembly 3862 is hosting the 6th annual "God Bless America" Independence Day Bike and Golf Cart Parade, at 10 a.m., Monday, July 4, 2022, in Ave Maria. The ceremony starts in the Piazza and will include a reflection from an Ave Maria veteran on the "Blessing of Freedom," then patriotic songs, prayers for our country, then a "Blessing of the Bikes." The parade, which will include bikes, trikes, golf carts, skateboards, strollers (decorated or not), will be led by a fire truck and pass through several neighborhoods, ending approximately 2 miles later back in the Piazza where there will be treats available. All are welcome. For more information, contact Dominick Micillo at 904-536-1480.
Volunteers needed in Naples
The Society of St. Vincent de Paul in Naples is looking for thrift store volunteers. If you would like to offer your time as a cashier, sorter, receiver or customer assistance representative for SVdP Naples, call Samantha at 239-775-2907 ext. 1014 or email info@svdpnaples.org.
Youth Conference July 8-10
The 14th annual Ave Maria University Youth Conference – "Fearless" – is being held July 8 to10, 2022. Featured talks are by Father Rick Martignetti, Father Joseph Lugalambi, Father Rich Pagano and Chris Padget. The event includes the talks, Mass, Adoration, praise and worship, fellowship, and opportunities for confession. The cost is $175 and includes lodging, all meals, a t-shirt and more. To register, call 239-348-4725, aveconferences@gmail.com or www.aveconferences.com.