The idea of giving thanks, knowing that we are here because of gifts given to us by God, is at the core of what Thanksgiving is all about.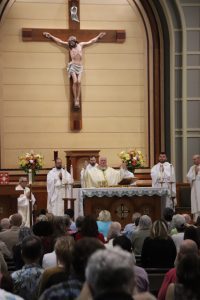 Bishop Frank J. Dewane described the holiday this way while celebrating Mass at Our Lady of the Angels Parish in Lakewood Ranch on Nov. 24, 2022.
As hard as we try, Bishop Dewane added, "being who God called us to be is difficult, and we will fail along the way. But, the Bible records the wonderful gifts of God, which we can find within ourselves and in others who are all made in the image and likeness of God."
The Gospel reading of the day was the parable of the 10 lepers, when only one returned to thank Jesus upon being cured of the debilitating illness. Jesus asks where the other nine were, and Bishop Dewane said that we are all among the nine at certain points in life, but must always strive to be among the one's who return.
"Our appreciation and gratitude of thanksgiving increases over the years as we realize how much is done for us by those around us and by God Himself." Bishop Dewane said. "By your presence at Mass on Thanksgiving, you are counted among those who returned to Jesus, just as you came to give thanks to God. Know the Lord sees the goodness and thanks you express."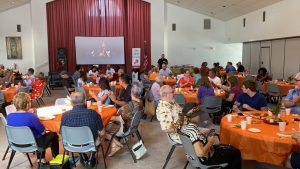 Being grateful for what they have was a strong theme during a Traditional Thanksgiving Dinner at St. Katharine Drexel Parish in Cape Coral.
The community was devastated by Hurricane Ian and is still recovering, which encouraged Father Ricky Varner, Pastor at St. Katharine Drexel, to host a Parish Traditional Thanksgiving Dinner.
Father Varner sent a request to the Parish staff and leaders of the different outreach groups (Knights of Columbus, Council of Catholic Women, Legion of Mary, Youth Outreach, Cursillo and more) to organize the dinner in an effort to help continue the healing process in support of families who are still displaced or rebuilding. Each group would be responsible for providing a designated dish.
"Since the wrath of Hurricane Ian on September 28th, I have had the privilege to see the best of all of you and to work alongside this incredible community… as we continue to support our brothers and sisters here and beyond to rebuild their lives and strive to get back to some form of normalcy," Father Varner wrote in his appeal.
The results were glorious as more than 200 people came to enjoy a holiday meal.
Father Varner bussed the tables during the dinner pleased at the response to the meal by individuals and families, many still traumatized by the hurricane eight weeks later. "You people of St. Katharine Drexel – You Rock!"
One couple present were the Tremble's who thought they would have to forgo a traditional Thanksgiving meal this year because their kitchen was destroyed in storm surge. The Tremble's had hosted family from across the country each Thanksgiving since they moved to the area in 2010. That was not an option this year. They could have taken up any number of offers to go north for the holiday, but there is too much work to do in Cape Coral.
"Our life has been one long microwave dinner since Ian," said June Tremble. "We are so thankful to Father Ricky and to everyone at the Parish for doing this. This is the best turkey I have ever had, because I know it was made with love."
Other families had similar stories to share, with one person expressing their thanks for having a chance to put the recovery from Ian at the back of their mind, if only for a few hours.
"I have smiled and laughed more in the hour I have been here than in the two months since Ian," said one man. "I really needed this. I think we all did.
The response by the staff and volunteers, as well as by the Parish families meant that Father Varner is already planning on making the dinner an annual tradition.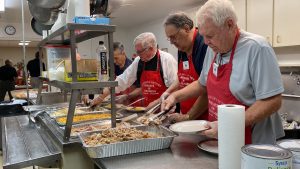 Meanwhile, Bishop Dewane went from the Mass in Lakewood Ranch to take part in a free community Thanksgiving dinner hosted by the Knights of Columbus Our Lady of Victory Council 3358 at their Hall on Fruitville Road in Sarasota.
The Knights delivered more than 200 meals to the elderly and homebound and then served hundreds more to those who needed a hot meal or didn't have anywhere to go for the holiday. Guests were also encouraged to take meals home. Those meals included turkey, gravy, mashed potatoes, corn, stuffing, roll, and pumpkin pie with whipped cream.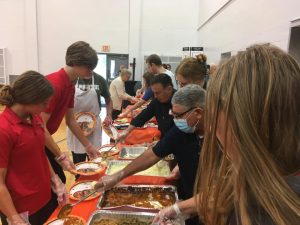 Bishop Dewane offered the opening prayer for the Knights and other volunteers before the dining room was opened. Then, the Bishop took his traditional spot in charge of serving the corn and assisted in serving potatoes as well.
On Nov. 24, students from Cardinal Mooney Catholic High School in Sarasota volunteered and served food at the 23rd Annual Sarasota Ministerial Association Thanksgiving Dinner at Sarasota First Baptist Church. Students and families participate each year this event is held.
For those who watched the Macy's Thanksgiving Day Parade from New York, they might have caught a glimpse of two cheer teams from the Diocese.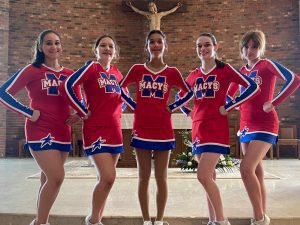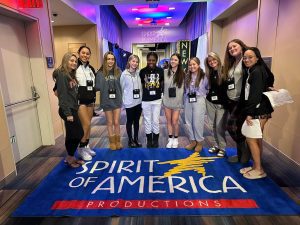 The National Champion Cheer Squad from Incarnation Catholic School in Sarasota were part of the larger "Spirit of America Production!" group.
Joining them was a group of senior cheerleaders from Bishop Verot Catholic High School in Sarasota. The participation of both groups is by invitation only and it is considered a great honor to be selected.