With the proliferation of digital devices in everyday life, the Diocese of Venice has taken proactive measures to protect children from the online world's moral pitfalls by giving its education professionals the knowledge and resources to teach cyber awareness to elementary and middle school students.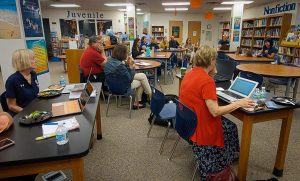 On Oct. 20-21, 2021, principals, teachers and directors of religious education (DRE) and catechists across the Diocese participated in an in-depth "train the trainers" course on how to apply the Cyber Awareness Safety Education (CASE) curriculum in their classrooms.
Led by Liz Repking, founder of Cyber Safety Consulting, the course teaches students about internet safety in a fun, interactive way. CASE encourages small group discussions of real-life internet experiences with a feedback loop to school parents. This approach provides greater retention and understanding among students and enables them to effectively apply these lessons to their online life.
The classes for DREs and catechists were held on Oct. 20, 2021 at St. Martha Parish in Sarasota and at Our Lady of Light Parish in Fort Myers on Oct. 21, 2021. During the evening of both days the training by Repking was tailored for principals and teachers and took place at St. Martha Catholic School in Sarasota and St. Francis Xavier Catholic School in Fort Myers. The training was part of the Virtus Protecting God's Children lesson plans for Diocesan religious educators.
The presentations were a follow-up of the Safe Haven Sunday workshops presented by Repking in April 2021. Those presentations to principals, DREs and parents and were titled, "Protecting God's Children Online in a Hyper Digital Age." Repking spoke about keeping children safe from cyber bullying, online predators, sexting, online gaming, and how to help children create an escape plan when trouble arises.
Safe Haven Sunday (March 6-7, 2021) was presented by the Diocese Office of Family Life and Department of Catholic Education to provide families with basic tools and practical tips for adults to create a safer digital environment for themselves and their children.
John Carkeet provided information to this report.