By Michael Morse, Executive Director of the Catholic Community Foundation of Southwest Florida Inc.
Throughout the Diocese of Venice, generous parishioners provide ongoing annual support for their Parish by way of their offertory gifts and for the Diocese by way of the Catholic Faith Appeal. This annual support is so appreciated and so critical to the Catholic Church's mission of spreading the Gospel, educating the faithful and serving those in need.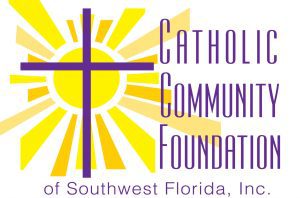 However, on multiple occasions, devoted Catholics have expressed concern about what would happen to their Parish, school or favorite Diocesan program after they have passed away. They have worried about whether or not the next generation will be as devoted to their Catholic Faith, whether they will attend Mass, send their children to Catholic School or be willing to support the programs and ministries of the Church.
Unfortunately, this concern may be well-founded. According to the Pew Research Religious Landscape Study, 35% of Baby Boomers and 28% of Generation X identify as Catholics, however, only 11% of Millennials identify as Catholics. This trend is not unique to the Catholic Church. Every major religion included in the Pew Research Study showed similar declines in religious participation by subsequent generations.
To help address their concerns as they look to the future of the Church, Catholic families and individuals are now looking to blend their current annual giving with a future gift in their will or trust to establish an endowment. An endowment fund provides a perpetual source of revenue to the Catholic organization of their choice. This helps ensure the long-term sustainability of their Parish, school or Diocesan program about which they care most.
For example, Susan donates $1,000 per year to her Parish through the offertory and would like to continue this support after she is gone. Susan works with her estate planning attorney to include a provision in her will to fund an endowment with the Catholic Community Foundation of Southwest Florida with a gift of $25,000.
When Susan passes away and the endowment is funded, the Foundation will use a portion of the endowment each year to replace her $1,000 annual support to her Parish. The remainder is invested in Catholic-screened investments, which allows it to grow and support annual payouts to the Parish forever. By establishing her endowment, Susan has helped ensure that her Parish can serve as the hands and feet of Christ to those in need for generations to come.
In addition to endowment funds, the Catholic Community Foundation offers a wide range of gifting options for Catholics including scholarship funds, donor advised funds, charitable gift annuities, charitable remainder trusts and more. The Foundation works with each donor individually to first understand what they want to accomplish and then determine how best to accomplish it.
To learn more about the Catholic Community Foundation, please contact Michael Morse at 941-441-1124 or by email at Morse@dioceseofvenice.org. You can also visit the Foundation website at www.CCFDioceseofvenice.org.