Bob Reddy – Florida Catholic
12/3/2018
A 17-year-old devout Catholic Bishop Verot Catholic High School Senior from Bonita Springs who is the Captain of the A-Team (Quiz Bowl) and Lady Viking Golf Team as well as the 2018 Jeopardy! Teen Tournament Champion. Who is Claire Sattler?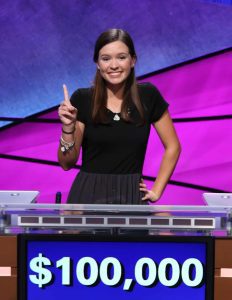 "It still absolutely feels like I'm dreaming," Claire said of her winning the $100,000 grand prize in the two-day final which aired on Nov. 19-20. "I really had no expectations to make it onto the show, let alone make it to the finals and win the whole thing, so this is completely surreal to me."
Claire goes to St. John the Evangelist Parish in Naples and said her faith is an important part of her identity which has helped her develop both personally and academically.
The entire Teen Tournament was filmed in August in Culver City, California, after she went through several layers of testing to qualify for the Tournament. This meant Claire wasn't allowed to tell anyone how she did until after the episodes aired.
Not being able to tell her friends was a challenge for Claire, but Bishop Verot celebrated her participation in style by holding viewing parties each night she appeared on the show. Her first appearance in the Teen Tournament was during a preliminary round at which time each of the 15 contestants appears. Claire finished second but had fortunately earned enough money to qualify for the semi-finals as a wild card. Thankfully math is a strong point for Claire as she took her semi-final round by $1.
"My goal was to reach the semifinals, but when I got there I was up against the top money earner from the first round," Claire explained. "I was so nervous that my hands were shaking. I needed to calm myself, so I said a serenity prayer. It worked, and I relaxed."
In the final Claire was still nervous but also had more confidence and felt there was nothing to lose. Having racked up $21,800 the first day and $16,400 the second, when the Final Jeopardy! question of the tournament Claire was far enough ahead that she wagered $0, having already doubled her closest competitor. Good thing, because unlike many of the previous questions, Claire did not know the answer. That was okay for Claire said "it was such an amazing experience."
During the tournament, host Alex Trebek asks a variety of questions, so people get to learn something about the contestants. On the final day, the three finalists could say whatever they wanted. Claire tried to thank as many people as possible including her family, friends and teachers who have influenced her throughout the years. Among those she specifically thanked was her Verot Quiz Bowl Coach and Math Teacher Lori Shriner who was a guest in the audience at the Jeopardy! taping.
Claire attended Royal Palm Academy, a school affiliated with the Diocese of Venice, in Naples before enrolling at Bishop Verot. She credits the influence of teachers from middle school going forward to being supportive of her passion for trivia and for math and engineering. In addition to the A-Team and Golf Team, Claire is active in several other clubs including drama, art and the STREAM Team (science, technology, religion, engineering, art and math).
With plans to major in biomedical engineering in college next year to possibly work on prosthetics technology, most of her winnings will go toward her continuing education. The winning check, minus California state taxes, arrived shortly before the Finals aired. A portion of the money will also go to support a STEM (science, technology, engineering and math) organization she founded. STEM4students provides STEM educational opportunities to children in Immokalee.
During the show, the contestants were only allowed to wear one item on their clothing and no mention of their school was ever made. Claire chose to wear a Bishop Verot pin with the school shield and a neckless given to her in eighth grade as a good luck charm.
"It helped having a piece of Bishop Verot with me, knowing all of the support I had back home," Claire explained.
While taping the show, she made many new friends from across the country and has remained in close touch through group chats. "We are all very close," Claire explained. "It has been a help because they each went through the same experience."
That help has been appreciated as comments from strangers on social media about the show have not all been kind. "That was something I had heard about and thought I was prepared for, but when you experience that for real, it has been challenging."
That challenge did not ruin the overall experience and Claire would not change anything. "I realize comments from people who don't know me are not what's important. The show does not reflect who I am or define me in any way. The experience has helped me gain confidence in who I am as a person and that is what is important."