Wrap-up of news from Across the Diocese in November
Wauchula Children's Festival a big success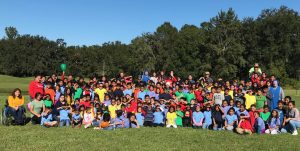 More than 200 children participated in a Children's Festival at St. Michael Parish in Wauchula. Geared toward children aged 3 to 10, there were a number of fun activities and games as well as Mass and prayers.
Successful Vocations Awareness Weekend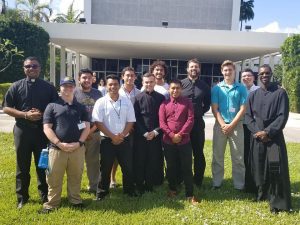 The Diocese Vocations Office brought a group of young men to participate in the Nov. 9-11 Vocations Awareness Weekend at St. John Vianney College Seminary in Miami. Led by Vocations Director Father Eric Scanlan, several attended this engaging and prayerful discernment event.
Retreat inspires catechists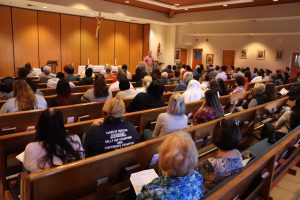 A Diocesan Catechist Retreat themed: "Root of God's Healing" took place Nov. 17 at Our Lady of Lourdes Parish. About 100 catechists participated in the retreat which focused on reenergizing them as they approach the Advent and Christmas seasons. They were reminded that Jesus serves to free and restore them as they work to be the light and witness of the Lord for others.
VDCCW Latina Convocation held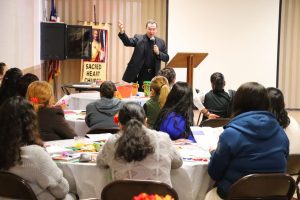 The first ever Venice Diocesan Council of Catholic Women Latina Convocation took place Nov. 17 at Sacred Heart Parish in Bradenton. About 50 women took part in the gathering which served to educate about the role of the CCW and to inspire them to become more involved in their faith. Iris Gomez, VDCCW Past-President, organized the gathering and Father Juan Carlos Sack, Administrator at Sacred Heart Parish, provide inspirational talks.
Cities for Life gathering held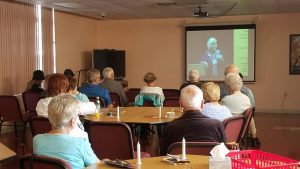 Praying for the end to the death penalty, a Cities for Life gathering was held Nov. 30 at St. Charles Borromeo Parish in Port Charlotte. Cities for Life is a worldwide annual event that was begun in 2002 by the community of Saint' Egidio in Rome where the Coliseum was lit up during the night. November 30th was chosen because it is the anniversary of the first civil state in the world to do away with the death penalty in Tuscany, Italy in 1786- 229 years ago. About 2,000 cities and 80 countries will call for the end of the use of the death penalty by lighting civic or religious buildings around the world, along with prayer services and educational programs. This was the fourth time the Dioceses of Florida participated in the prayer vigil. Participants in the Port Charlotte gathering saw a video presentation of a talk on the death penalty from the September 2018 Florida Respect Life Conference in Punta Gorda.
Sarasota Charity Ball Jan. 26 at The Westin
The Catholic Charities Ball will be held on Jan. 26,  at 6 p.m. at The Westin in Sarasota. All proceeds will benefit the programs and services of Catholic Charities, Diocese of Venice, Inc. in Sarasota and Manatee counties which include Our Mother's House, St. Martha's Early Learning Center, Bethesda House, Catholic Charities Family Haven, housing counseling and foreclosure prevention, financial assistance, senior services, professional counseling, refugee services, and immigration services. The evening will include a cocktail hour, auctions, dinner, and dancing. Tickets are $300 a person. For information and tickets visit www.catholiccharitiesdov.org or call 941-355-4680, ext. 301 or email nmuth@ccdis1.org.