Staff Report – Florida Catholic
12/4/2018
The Fall sports season has come to an end and many athletes and teams from Diocesan Catholic High Schools did themselves proud with the performances on the court, in the pool and on the field.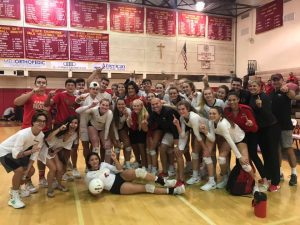 The Cardinal Mooney Catholic High School Lady Cougar Volleyball Team fell on Nov. 15 in the 5A State Final to Trinity Catholic High School of Ocala, three sets to two. The Lady Cougars finished their season with a record of 25-8.
Madeline Burt, a student at St. John Neumann Catholic High School, swam her way to two medals at the Nov. 16 Class 1A State Championships at Sailfish Splash Park and Aquatics Center in Stuart. Burt took silver in the 100-yards butterfly with a time of 54.10, and bronze in the 50-yards freestyle in a time of 23.37. Way to go Madeline! Both times were good enough for All-American consideration.
The St. John Neumann Celtic Football Team fell in the Regional Final of Class 2A to Champagnat Catholic High School of Hialeah, the defending State Champions, with the final score of 21-10. The Celtics finished the season with a record of 10-2. This was the farthest any Neumann football team has ever advanced.
The Bishop Verot Catholic High School Viking Football Team also fell in the Regional Final for Class 4A on Nov. 23 to Cocoa High School with the final score of 38-14. The Vikings finished the season with a record of 9-3.