Staff Report – Florida Catholic
12/4/2018
The Thanksgiving holiday brings people together for a meal with the opportunity to thank the Lord for all that has been provided during the past year.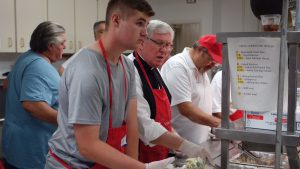 While Thanksgiving is typically a celebration of the family, many take the opportunity to help those in need, whether it is through bags of food or offering a hot meal, the outreach throughout the Diocese is impressive.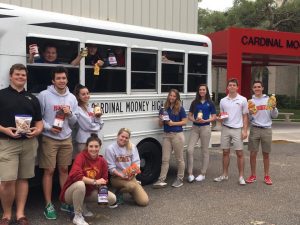 Guadalupe Social Services of Catholic Charities in Immokalee and the Judy Sullivan Family Resource Center in Naples both offered baskets of food to hundreds of needy families. This included food that would not only be used for the holiday itself but could feed a family of four for up to a week.
One mother, who received a gift basket from the Judy Sullivan Center, noted that the food was much appreciated as it would allow her to provide a special meal for her two children at Thanksgiving. "I'm just so grateful to everyone who provided the food. It means so much to my children too."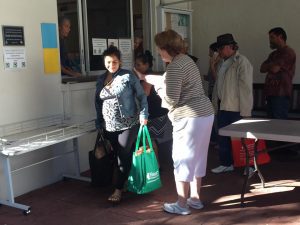 At St. Joseph Parish in Bradenton, volunteers handed out more than 1,200 bags of food in three days. Meanwhile, the Young Vincentians from Cardinal Mooney Catholic High School in Sarasota delivered more than 1,000 pounds of food to Bethesda House, a Catholic Charities program for people impacted by HIV/AIDS. At St. Columbkille Parish in Fort Myers, more than 120 turkeys and other items were donated to St. Margaret Parish in Clewiston and St. Joseph the Worker Parish in Moore Haven.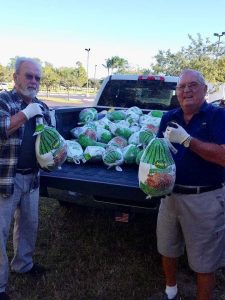 Bishop Frank J. Dewane was in Sarasota on Thanksgiving Day when he joined the Knights of Columbus Council 3358 for the traditional Thanksgiving Dinner for the community. The Bishop gave the opening blessing and helped on the food line. This annual event is in its third decade and this year provided about 600 hot meals for many people who have nowhere else to go on Thanksgiving. An additional 200 meals were delivered to the homeless in the area. Earlier, Bishop Dewane celebrated Mass at Our Lady of the Angels Parish in Lakewood Ranch.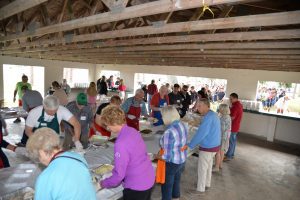 In Immokalee, the faithful of St. John the Evangelist Parish in Naples offered "Thanksgiving in the Park" which provided more than 2,000 meals. More than 100 volunteers helped prepare the meal and then serve the food on Thanksgiving Day.
Several other parishes had Thanksgiving dinner for the faithful, including at St. Peter the Apostle Parish in Naples which served about 300.
These were just a few examples of what took place throughout the Diocese of Venice Thanksgiving week.