Samantha Mitchell, a student at Bishop Verot Catholic High School in Fort Myers, has earned the highest possible ACT composite score of 36.
The ACT is a standardized test used for college admissions (the SAT is the other such exam), and covers four academic skill areas: English, mathematics, reading, and scientific reasoning. The sections are individually scored on a scale of 1-36, and composite score (the rounded whole number average of the four sections) is provided.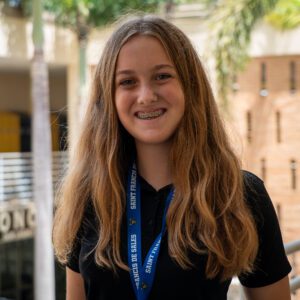 According to the notification letter sent to Samantha, "Your achievement on the ACT is significant and rare. About one-quarter of 1% of all test takers earn the top score." Among U.S. high school graduates in the class of 2022, just 3,376, of more than 1.34 million students who took the ACT, earned a composite score of 36.
The notification indicates that Samantha's exceptional score will provide colleges and universities with ample evidence of her readiness for the academic rigors that lie ahead.
ACT scores are accepted by major four-year colleges and universities from across the U.S. Test scores are one of multiple criteria that colleges consider when making admissions decisions.
Prior to attending Bishop Verot, Samantha attended St. Francis Xavier Catholic School in Fort Myers. She is a parishioner at St. Cecilia Parish, located next to Verot, and has been an altar server and volunteer there for many years. She is also active in the American Heritage Girls. A project she did for the American Heritage Girls was to help create a rosary garden at the Parish, which was dedicated in early 2023.
In addition, Samantha was honored by the Venice Diocesan Council of Catholic Women with a Golden Rose Award in May, which was presented by Bishop Frank J. Dewane. At the time, St. Cecilia Parish Pastor Father Paul Dechant, Oblate of St. Francis de Sales, remarked how Samantha "is a blessing to St. Cecilia's."
Congratulations Samantha on such an awesome accomplishment!