Announcements
Father Patrick O'Connor, OSFS, is relieved of his duties as Pastor of Jesus the Worker Parish and San Jose Mission in Fort Myers, effective Sept. 1, 2023, and thus has returned to his Religious Community.
Father Carlos Encinas, is relieved of his duties as Parochial Vicar of St. Agnes Parish and St. Elizabeth Seton Parish, Naples, effective Aug. 1, 2023. Father Encinas, for health reasons, has taken an assignment in the Diocese of Oakland, California.
Bishop Dewane celebrates Mass in Bradenton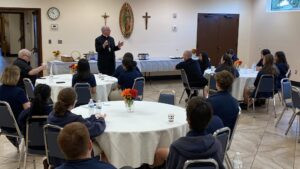 Students at St. Joseph Catholic School were blessed to have Bishop Frank J. Dewane celebrate the Holy Sacrifice of the Mass for them on Sept. 1, 2023. Bishop Dewane encouraged the students to follow Christ's example at home, in school and in the community. Following the Mass, the Bishop joined the eighth graders for breakfast where he took time to speak to them and encourage them to be the leaders of their school.
Day focuses on STREAM learning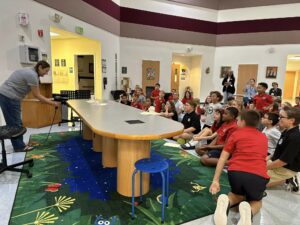 The third through eighth grade students at St. Mary Academy had a fun STREAM (science, technology, religion, engineering, arts, and math) day on Aug. 31, 2023, hands-on exercises in small groups. The students worked on the following: Natural Disasters – created structures to withstand high winds of a Category 1-4 hurricane, where a blow dryer created much excitement; Hurricane Escape Room – an activity where they researched the season, cause, formation, naming, and wind scale of a hurricane; Create a Structure to Survive the Storm: with the use of pilings, flood barrier walls and absorbent materials students created a dog house to keep their pet dog dry. These were great activities using all aspects of STREAM and the students learned so much, instilling a love of science, while also working together as disciples of Christ.
Fort Myers schools give back
Two Diocesan Catholic schools which received many gestures of kindness from the impact of two hurricanes are returning the favor. St. Francis Xavier Catholic School in Fort Myers and St. Andrew Catholic School in Cape Coral had special "Dress Down Days" on Aug. 31, and Sept. 1, 2023, respectively. Money raised on these days will go to help Sacred Hearts Catholic School in Lahaina, Hawaii. The school, which has been serving the community for more than 150 years, was destroyed during an Aug. 8, 2023, wildfire which killed at least 115 and left thousands homeless. The school website states: "The flames destroyed our physical structures, but they cannot extinguish the Holy Spirit in us and our strong will to rebuild and rescue the students of the Lahaina community." By providing a donation, the students at St. Andrew and St. Francis Xavier were able to forgo wearing their school uniform for the day. The result was that thousands were raised between the two schools in a single day. Both of the Lee County schools received donations from across the country following Hurricanes Irma (2017) and Ian (2022), which severely impacted the schools and surrounding communities, thus this was a great opportunity to give back to a Catholic school in need.
Service and community focus of school retreat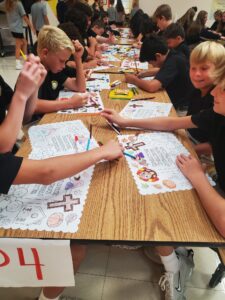 Middle school students at St. Martha Catholic School in Sarasota took part in a special Retreat Day Sept. 1, 2023, which focused on service and community. The students created cards for those who are sick in the hospital and placemats to be used at Thanksgiving for those less fortunate. They concluded with a Prayer Service with Pallotine Fr. George Suszko, Pastor of St. Martha Parish.
Patriotic theme for first game of season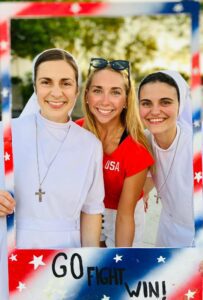 The stands of the St. John Neumann Catholic High School football field were a sea of red, white, and blue on Sept. 1, 2023, during the first home game of the season in Naples. The Patriotic Night brought out many inspiring outfits as everyone cheered the Celtic team on to a 16-8 victory against Gateway Charter of Fort Myers.
Teachers take part in professional development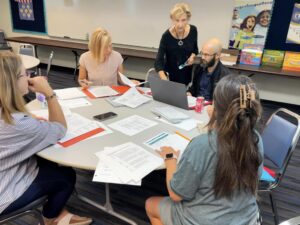 Each year Diocesan Catholic school teachers have special days set aside to help them grow in their work and receive updates on new policies and programs. At St. Joseph Catholic School in Bradenton on Sept. 5, 2023, the teachers learned about a new program for faith formation, followed by working in committees to begin a self-study that will lead to long range planning, goal setting, and preparation for school re-accreditation. During the day, the staff lived their mission statement: "rooted in Catholic faith and committed to academic excellence."
Volunteers help fill backpacks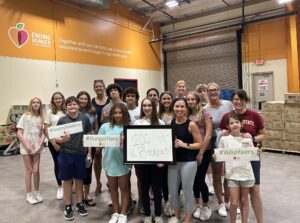 Volunteers from St. Martha Catholic School and Cardinal Mooney Catholic High School in Sarasota helped fill 1,200 backpacks for children in the region on Sept. 5, 2023, at All Faiths Food Bank. There were 18 volunteers who joined in this outreach.