Priesthood, religious life, sacramental marriage, and consecrated single life are the four vocational options for young people today. This was the core message of a one-day Vocational Retreat "Encounter with Christ" on Aug. 26, 2023, at St. Paul Parish in Arcadia.
Father Luis Pacheco, Administrator of St. Paul, organized the retreat as a way to encourage the youth to start thinking about a vocation, regardless of which one, but in all cases, in service to the Lord.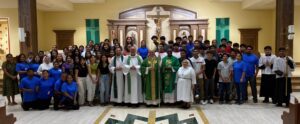 The response was overwhelmingly positive as 52 young men and women attended the retreat representing four different regional Parishes. During the day, the youth heard from Bishop Frank J. Dewane, priests, religious women, a married couple and a single woman; all shared how they are living their response to the call of the Lord in their lives.
Bishop Dewane, who spoke to the group and celebrated Mass at the close of the retreat, said "We are each called to open our hearts and our ears to hear the call of the Lord in our own life. That call will be different for each one of you. It is how you respond to that call, by the life you live, where you will find the joy that happens as you give yourself to the Lord."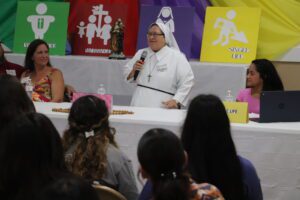 Sharing his own vocation story, Bishop Dewane explained how he first thought about the priesthood in his early teens, but kept putting it off to do other things, before finally realizing it was time.
"There was angst over the decision, but once I decided to go for it, I never looked back. I even reflect that I should have done this (discerned the priesthood) years earlier. The Lord has been good to me. You are called to do what the Lord asks," the Bishop said.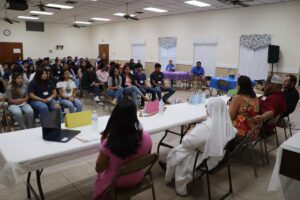 Answering a call to a vocation is not about what anyone wants, it is about surrendering yourself to the Lord because He knows what you need, Bishop Dewane continued.
"Society tells you that you have to decide. Don't let anybody tell you what to do and the Lord gets lumped into that. Don't let that happen. When you leave this retreat, it's my prayer that you will pray about what you are going to do, and about what you learned today. Know that you will forever be in my prayers," the Bishop concluded.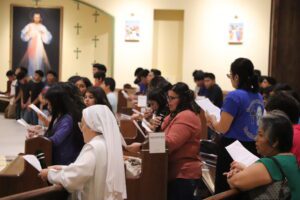 The retreat began with an opening prayer and then a presentation by Father Pacheco themed "Jesus the Great Doctor." There were then group discussions followed by a short vocational video. The second talk was by Father Nathan Marzonie, Oblate of the Virgin Mary, and Parochial Vicar at San Pedro Parish in North Port, on discernment and his journey to becoming a priest with a religious order.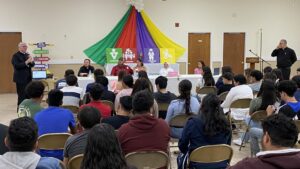 Following lunch, there were games and songs before a vocational film and time for personal reflection on the following questions: What vocation do you think God could be calling you to? What questions should I ask myself to find out what vocation I am being called to? What is the difference between a vocation and a profession? Prior to Mass, the youth had the opportunity to go to confession while the group took part in a Holy Hour with Adoration of the Blessed Sacrament.
A key moment of the day was when the youth heard from a panel of presenters, with representatives of each vocation. On the panel were Father Alex Pince, Parochial Vicar at Epiphany Cathedral in Venice, Sister Martha Flores, Missionary Sisters of Our Lady of Light (MHML), Director of Religious Education at St. Paul, Mr. and Mrs. Dixon, and Lupita Galaviz.

The Dixon's shared how they entered their marriage as the pure sacrament it is meant to be, keeping God first in everything they do. The couple has been blessed with 12 children and one on the way. "We have been blessed in so many ways. Sacramental marriage is a beautiful vocation when you live it with the support of God to help you through any challenges," Mrs. Dixon said.
Galaviz, 23, explained how she chose to remain single for now because it is how the Lord has guided her through her life. While she does have a boyfriend, the two live a pure life; she is taking the time to grow deeper in her relationship with the Lord, through prayer and by living her life as an example for others to follow. This has allowed her to mentor and support others while sharing what she has learned from the Lord.
Father Pince spoke about how he also delayed his vocation to the priesthood for several years until he finally heard the call of the Lord clearly while on a pilgrimage to Lourdes, France. "I was overpowered with God's incredible love. I had a sense God would never abandon me if I said 'Yes!' I knew I wouldn't be afraid in my life because He would be with me every day."
By saying "Yes!" Father Pince said he finds great joy in the priesthood each day. "It is not like my life is over. God has surpassed any expectations because God had a plan for me from the beginning."
Offering advice to the youth, Father Pince said they need to attend Mass regularly and to receive the Blessed Sacrament at Communion, using this time to be close to the Lord, in His Church. They must also go to the confessional regularly to receive the Lord's loving mercy, and to be in a state of grace, the vessel that can clearly hear the Lord's voice. Finally, the youth must trust God — this comes from His unwavering love, which, when accepted, will lead them to ultimate happiness.
Sister Martha took a different approach to her talk to the youth as many in the group have known her for many years.
"It's exciting to be a religious," she said. "It is not a boring life; it is an extreme life. It is fun, always fun. I entered the convent at 18 so I could go out and share the Love of God with others, announcing Him and to be passionate for His Kingdom, all to make sure everyone can hear the Good News of the Lord."
A religious for 40 years, Sister Martha said it seems like she entered the convent and made her vows of chastity, poverty and obedience yesterday.
"I have the same love of God, and I am here to share it with all of you. I gave myself freely, and it is the best experience to give all of yourself in what you are doing and thinking and sharing it with so many people. A vocation is a gift from the Lord. You say, 'Here I am Lord' and you answer that call every day."
Sister Martha concluded by adding, "Don't be afraid. When you answer your vocation, it will be the most joyful and happy life. But you must listen because He is always talking to you, and He wants you to be happy and enjoy life and be able to share His life with others. A vocation is always in motion," she said with a laugh and big smile.
Each panelist shared what it was like to live their vocation and then responded to anonymous but poignant questions from the retreatants.
If you are interested in a vocation to the priesthood, or religious life (men or women), please contact Father Shawn Roser, Diocesan Director of Vocations, at 941-484-9543 or roser@dioceseofvenice.org, or visit www.venicevocation.org.