A joyful celebration of faith and culture took place Aug. 27, 2023, at Santa Rosa de Lima Mission in Montura Ranch Estates, a small farming community in Hendry County, some 15 miles south of Clewiston.
The occasion, the celebration of the Holy Sacrifice of the Mass by Bishop Frank J. Dewane. Add a Feast Day of Santa Rosa de Lima and nothing could quell the excitement of the small community. The day also included a banquet featuring food from many different cultures.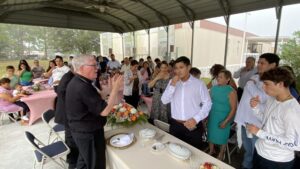 Bishop Dewane was grateful for the kind welcome and praised the faithful for their strong faith in making Santa Rosa de Lima Mission such a vibrant Catholic community, shown in how they respond to the call of the Lord in their lives.
"Your presence here each Sunday is a testament to that," Bishop Dewane said. "But it cannot just be on Sundays. You must declare that you are a follower of Jesus Christ. Choose to say who Jesus is in your life, in the way you live each day."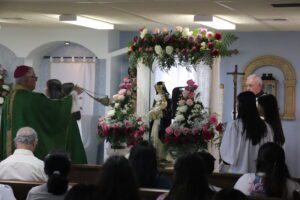 Following the Mass, Bishop Dewane praised the pastoral work of Father Jean Woady Louis, Administrator of the Mission and St. Margaret Parish in Clewiston, and the two women religious from the Missionary Sisters of Our Lady of Light (MHML) who serve in numerous roles.
Father Woady, as well as a parishioner representing the community, thanked Bishop Dewane publicly for his support of the people of Santa Rosa de Lima Mission and of Hendry County. They both noted how it was an honor and blessing to have the Bishop celebrate the Mass for the community.
In honor of the Feast Day aspect of the celebration, a temporary shrine of roses with a statue of Santa Rosa de Lima was on display in front of the chapel, which Bishop Dewane incensed during the Mass.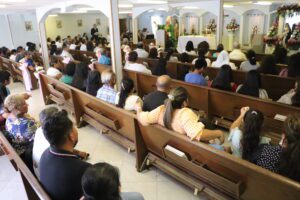 Many in the community sought special blessings from Bishop Dewane following the Mass as he took time to greet as many people as was possible. One woman said she could not remember ever meeting a Bishop in person and was honored Bishop Dewane took the time to speak with her and even bless her mother.
While there was a driving rainstorm after Mass, this did not deter a lavish potluck banquet which took place under tents and other shelter, and included cuisine from Mexico, Peru, Cuba and elsewhere.
Also present for the celebration was concelebrating Father Marcial Garcia, Pastor of St. Joseph the Worker Parish in Moore Haven. He previously served the Mission, as did Father Jiobani Batista, Pastor of Our Lady Queen of Heaven Parish in LaBelle, who joined the group for the banquet.