The Homecoming Football Game for the Bishop Verot Catholic High School Vikings on Oct. 20, 2023, in Fort Myers, was a rousing success when they beat their long-time nemesis, the Cardinal Mooney Catholic High School Cougars from Sarasota.

The game was close early, but the powerful Vikings offense came to dominate the game with a final score of 50-14. This is the fourth time the Vikings have reached 50 points or more. For the season, the Vikings are now 8-1 and the Cougars are 6-2. Good records for both teams!
The Vikings are led by junior quarterback Carter Smith who passed for 150 yards with two touchdowns while also rushing for 138 yards and three touchdowns. During the game he became the holder of Verot's career passing record at 6,495 yards.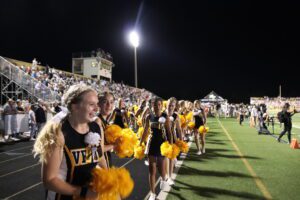 Other standouts for the Vikings were sophomore Deshon Jenkins Jr., who rushed for 121 yards and three touchdowns.
The Verot defense was led by senior safety Leroy Roker (2 interceptions and four tackles). Leroy also rushed for 34 yards, and he caught one pass for 24 yards. He recently announced his commitment to play football at The Ohio State University.
The Vikings have high aspirations with a goal for a return trip to the State Final Four.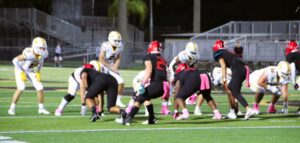 Present as a neutral observer for the game was Jesuit Father John Belmonte, Diocese of Venice Superintendent of Catholic Education. To be impartial, Father Belmonte spent the first half on the Verot sideline and the second half on the Mooney sideline.
Before the game an Alumni tailgate was held, and at halftime the Homecoming Court was presented. Homecoming Week included Mass, karaoke night, a field day, game show competitions, a senior breakfast, powderpuff football, and a traditional Homecoming Bonfire the night before the game.