In ways large and small the faithful of the Diocese of Venice commemorated the 20th Anniversary of the 9/11 terror attacks on the United States with reflection and prayer.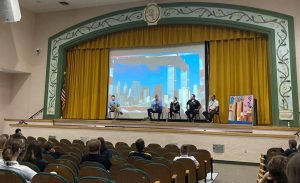 Students in Diocesan Catholic Schools took part in prayer services, dressed in patriotic colors and learned about an event that happened before they were born. The students at Bishop Verot Catholic High School in Fort Myers participated in a Red, White and Blue Dress Out fundraiser on Sept. 8, 2021 with proceeds going to the "Tunnel to Towers Foundation" (https://t2t.org/).  The Foundation was created in honor of Fire Department of New York member Stephen Gerard Siller, who was headed home following his shift on Sept. 11, 2001, when he heard the call.  Though blocked by traffic, he then proceeded to run in full gear across the Brooklyn Bridge to the Twin Towers where he later perished.
On Sept. 9, during their lunch periods, the Verot students were given the opportunity to share in discussion with some of the staff members about the events of 9/11 and their lasting impact.
Meanwhile, St. Martha Catholic School and St. Mary Academy held a prayer service on Sept. 10 with students encouraged to wear red, white and blue. The service was to further promote peace and tolerance.  The funds raised will be used to purchase a Peace Pole and benches.
Diocesan Parishes also hosted a variety of prayer services and commemorations.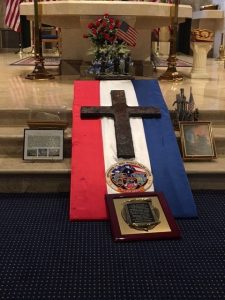 St. Peter the Apostle Parish in Naples hosted its annual 9/11 Memorial Mass on Sept. 11.  The Parish is home to a 9/11 Cross made from the steel of the World Trade Center and has hosted a commemorative Mass each year since 2001. Father Gerard Critch, Pastor of St. Peter's, served as a Chaplain at Ground Zero during the initial search and recovery process following the terror attacks in New York City.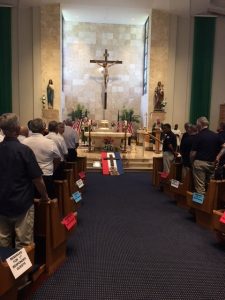 Our Lady of the Angels Parish and the Knights of Columbus of the Saints Cosmas and Damian Council 13341, hosted a Blue Mass on Sept. 11 in honor of the work of public safety personnel including law enforcement, firefighters, and emergency medical services personal.
Leading up to the 20th Anniversary, St. Agnes Parish in Naples hosted a Peace Novena from Sept. 3 to Sept. 11. The novena served a dual purpose of commemorating the terror attacks and marking the end of the war in Afghanistan with its recent tragic consequences. The final prayer service on Sept. 11 included special decorations, a candle lighting ceremony, scripture readings, a brief homily, intercessions, the completion of the Novena, and music, prior to Mass. The faithful were able to follow the entire novena through the Parish website.
These are just some of the examples of how the faithful of the Diocese marked this anniversary all unified in prayer that no one will ever forget the tragic events of Sept. 11, 2001, and to make sure nothing like this ever happens again.